Alaska State Fair Camping
Alaska State Fair Campground is nestled in the Matanuska Valley in the heart of the fastest growing region of the state. Just one hour outside of Anchorage, we have spaces in a secured fenced area.
7 spaces are available with electrical hookups and 8 spaces are without.
Free local wi-fi.
Water and sewer hookups not available.
Spaces Available:
20 x 40 space with electric

$30
20 x 60 space without electric

$30
Camping Season:

TBA
Address
2075 Glenn Hwy
Palmer, AK 99645
Working Hours
Monday-Friday: 8:30am – 4:30pm
Contact Info
907.745.4827
Map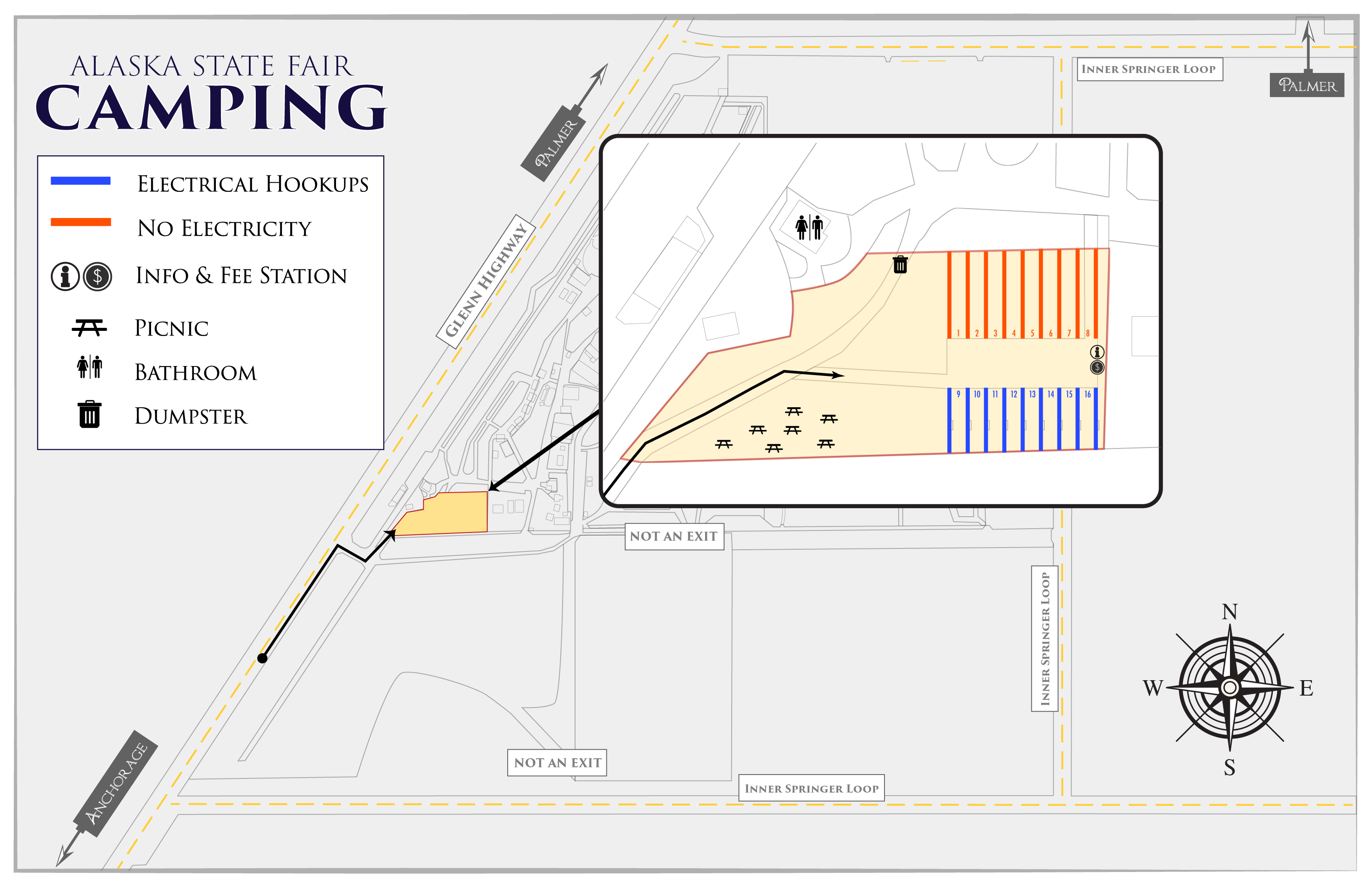 Event Campground Host
Oversee camping area on the fairgrounds from May 15 to August 1. Payment is use of a campsite, water, electric, and free dumping service.
Must
Have good customer service skills
Be able to reside in campground area for the duration and be able to work most weekends and all holidays.
Be able to work outside in all weather conditions.
Have a good knowledge of the surrounding area and points of interest.
Duties include:
Greet and assist visitors in locating vacant sites,
Answer visitor questions, distribute maps and copies of regulations,
Perform light maintenance work around the campground area such as litter pickup, emptying trash cans and washing tables.
Keeping a written report of complaints, compliments and criticism of park amenities.
Reporting any maintenance items requiring immediate attention to Fair staff.
Experience preferred, not necessary.
Please complete the Online Application or download the Application and mail/deliver to 2075 Glenn Hwy, Palmer Alaska 99645, fax 907.746.2699. Attn: Campground
Photo Gallery