Borealis Theatre Security Policy (Concert Venue)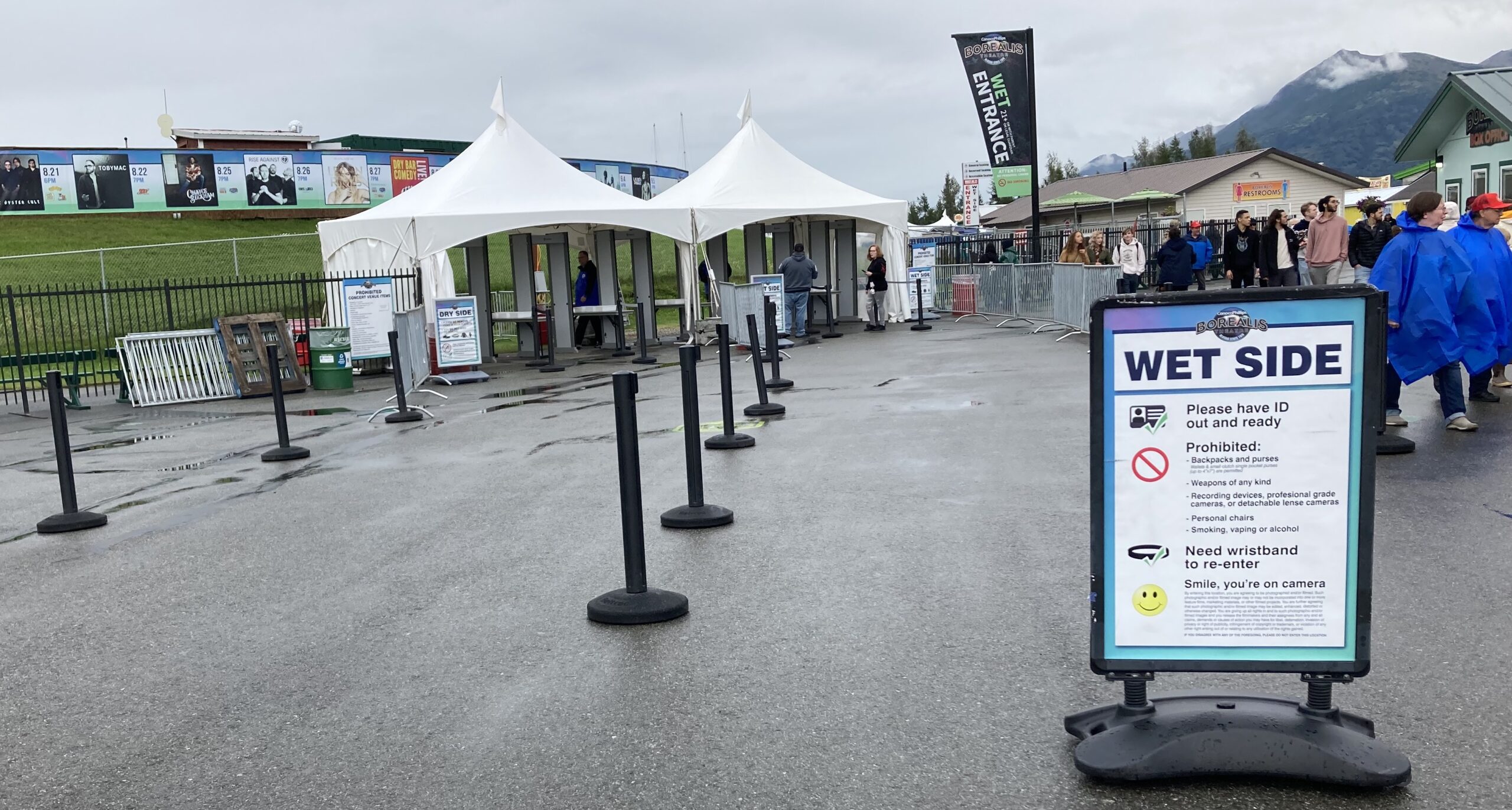 Public Safety Policy
To ensure the safety and security of our guests The Alaska State Fair will conduct public safety inspections at concerts when required by the artist's management, or when there is an anticipated need.
All guests entering the concert area will be required to go through these inspections by way of walk-thru Magnetometer and/or Wand, visual inspection, or bag inspection, and may be subjected to pat-downs conducted by security personnel. The purpose of the inspection is to detect prohibited items and for the safety of our guests, performers, and our staff.
We ask that you please…
Arrive early and be prepared for additional security measures. Doors to the concert venue typically open 60-75 minutes before showtime. We cannot guarantee entry on time if most of the crowd arrives close to showtime.
Limit items brought to the venue. Please leave all bags and prohibited items at home or return them to your vehicle.
Be prepared to pass through the safety screening process. This will consist of the above safety check. Be prepared to empty pockets BEFOREHAND. Additional safety checks may be required by a specific artist. Please check ahead of time for any specific updates to the process.
DO NOT REMOVE OUTERWEAR/ACCESSORIES: When approaching the entrance, guests should be prepared to place phones, keys, and any other metal objects from pockets in the tray and unzip all jackets. They can continue to wear hats, belts, shoes and jewelry as they walk through the metal detectors.
REMOVE PROHIBITED ITEMS FROM POCKETS AND PURSES: Prior to arriving for the event, we recommend that guests leave all prohibited items in their car or at home. A list of prohibited items can be found at the entrances and on our website.
Prohibited Items
For safety reasons, guests are refused entry if they are in possession of prohibited items. All entry constitutes consent to a public safety inspection. Prohibited items will need to be returned to your vehicle or thrown away before you are allowed entry to the venue. If a guest is found inside the venue with a prohibited item, the item may be confiscated, and the guest may be required to leave the facility.
Bag Check at the concerts is compliments of Palmer Rotary and Susitna Rotary.
The following items are not permitted:
Weapons of any kind (guns, knives, pepper spray, stun guns, etc.)
Bags or Purses (size limit of 4″ x 7")
Backpacks / Knapsacks
Alcohol
Tools as weapons
Animals/Pets (except service animals)
Audio/Video Recording, Photography Equipment
Balloons, Beach Balls or Related Items
Chains, Studded Bracelets, etc.
Coolers or Ice Chests
Illegal Drugs
Glass
Laser Pens and Pointers
Noisemaking Devices (i.e. whistles, air horns)
Anything that can be used as projectiles
Signs, flags, banners and posters
Skateboards, Rollerblades, Bikes, etc.
Sticks, Bats, Poles or Clubs
Unapproved pamphlets, fliers, handbills, etc.
BAG RESTRICTION POLICY – In accordance with safety and security guidelines, bags, backpacks, and purses will not be allowed; however, wallets, small clutch single-pocket purses no larger than 4 inches by 7 inches are permitted. To accommodate our guests who need to carry diaper bags or essential medical equipment, larger bags will be permitted pending additional inspection at the concert venue.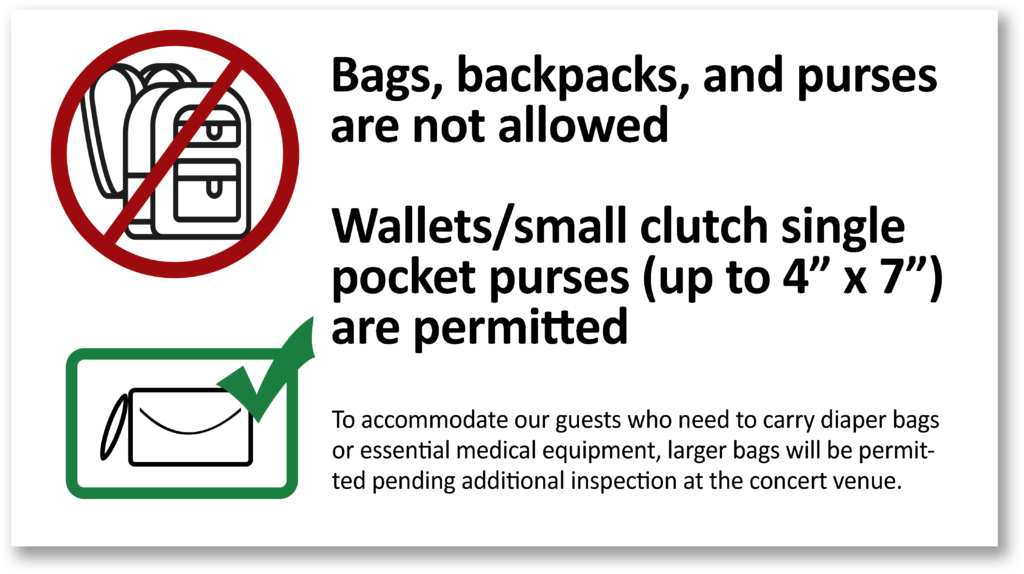 Any other item deemed inappropriate or dangerous by the venue in its sole discretion. This list is subject to change at any time by management. Thank you for your cooperation