Disclaimers & Policies
Alaska State Fair Health and Safety
An inherent risk of exposure to COVID-19 exists in any public place where people are present. By attending events at the Alaska State Fairgrounds you voluntarily assume all risks related to exposure to COVID-19 and other diseases. Please adhere to all local, state and federal mandates and follow posted instructions while visiting the Alaska State Fairgrounds. Guests are encouraged to wear masks and social distance. If you or someone in your group are feeling ill, please stay home.
We ask that you not bring the following items on to Fair property:
Firearms, knives or weapons of any kind
Animals (except Service Dogs)
Alcoholic beverages
Bicycles, scooters, roller blades, roller skates or skateboards
Solicitation materials (and please refrain from soliciting or you will be removed from the grounds)
Material distribution
Also, please refrain from smoking; including e-cigarettes, except in designated areas.
Buying Tickets to Concerts at the Alaska State Fair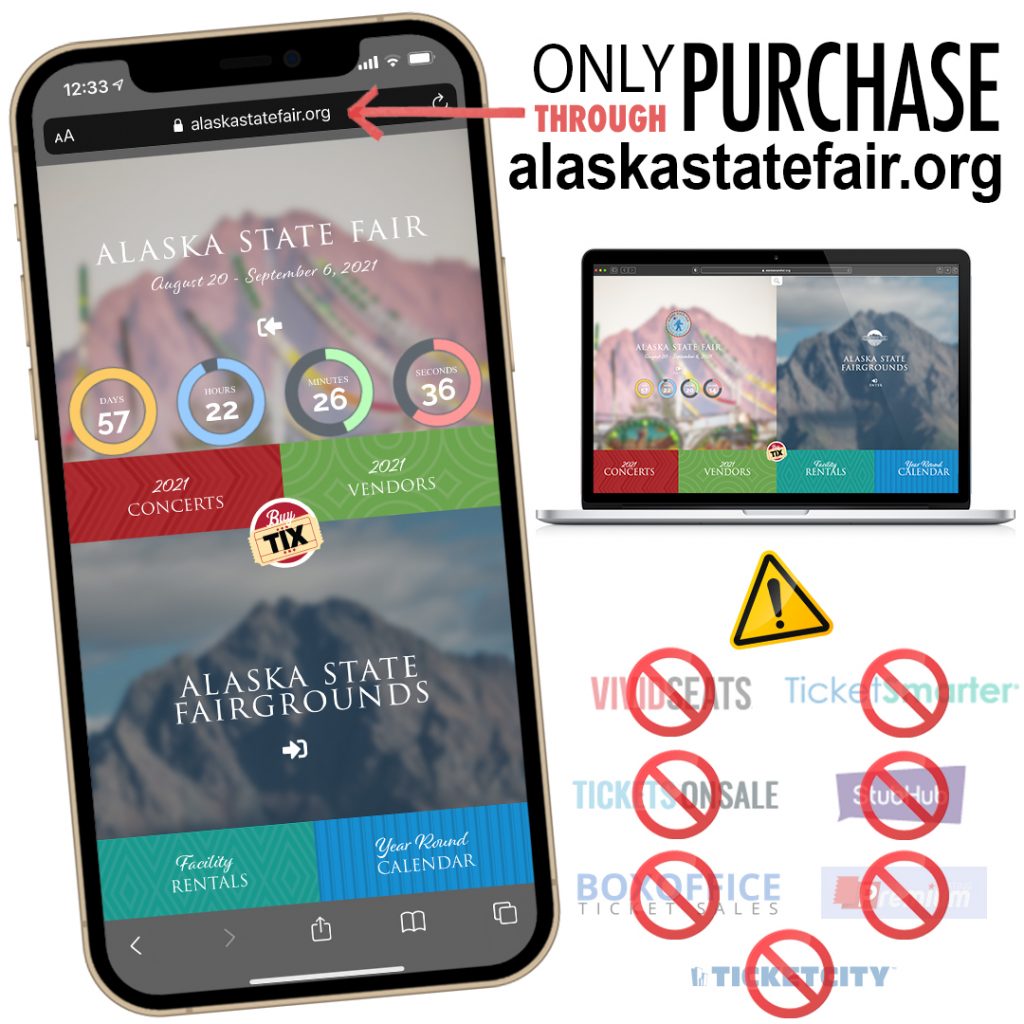 Beware of reseller, third party websites and scalpers: tickets to 2022 Fair concerts still available!
When searching for Alaska State Fair tickets through Google, Bing, Yahoo!, or any other web search engine, links provided can be "paid ads" by ticket resellers and vendors also selling tickets at an inflated price. There are postings on CraigsList offering Alaska State Fair concert tickets at an inflated price.
We encourage all fairgoers to purchase their tickets directly through the Fair website, www.alaskastatefair.org or through our approved vendor etix.com for two reasons:
1) Concert tickets are still available for purchase at the original price.
2) Tickets purchased through non-approved vendors are not guaranteed.
To purchase tickets, visit Alaska State Fair Buy Tickets Page or the individual concert pages found on our website.
Please don't take a photo or selfie with your tickets and place it on social media. Doing so makes you vulnerable to have your ticket reproduced.
You can shop our site with confidence knowing that all tickets sold on alaskastatefair.org and etix.com are 100% authentic Guaranteed.
Before clicking on an online ad for our concerts, copy-and-paste its address on an online search engine and see what results come up to verify it is ours before making a purchase.
Don't let scammers make you part with your hard-earned cash.
ConocoPhillips Borealis Theatre and Ticket Info
Concert ticket prices do not include Fair admission. Convenience fees apply. Babes-in-arms admitted for free; children aged 2 and up must have a ticket. During the Fair, concert tickets may also be purchased on the fairgrounds at the Borealis Box Office, across from the Borealis Theatre.
The ConocoPhillips Borealis Theatre is an open-air theatre; shows take place rain or shine. Both entrance gates open approximately one hour prior to the show. Personal chairs, professional grade cameras, cameras with detachable lenses and recording devices are strictly prohibited.
There are 2 entry gates to the theatre; a "wet" gate directly into the alcohol consumption areas and a "dry" gate accessible by all ages. If you enter through the "dry" gate, you may cross into the "wet" area once you're inside the theatre. To access any area with alcohol consumption, including entering through the "wet" gate, you must be 21 or over and present a valid photo ID, or be accompanied by a parent or legal guardian and present a valid photo ID.
ConocoPhillips Borealis Theatre Concert Seating Map
There are "wet" (alcohol consumption permitted) and "dry" (no alcohol) areas. To enter the "wet" area, you must be aged 21 or older and present a valid photo ID, or be accompanied by a parent or legal guardian and present a valid photo ID. Wheelchair accessible seating areas are available in both the reserved and lawn areas. Some concerts have chairs in the reserved area. There are no chairs in the lawn area. Limited bleacher seating is available on the "wet" side of the lawn area. Please check each concert page for more information.
Here are some of the seating configurations we regularly schedule at the Borealis Theatre.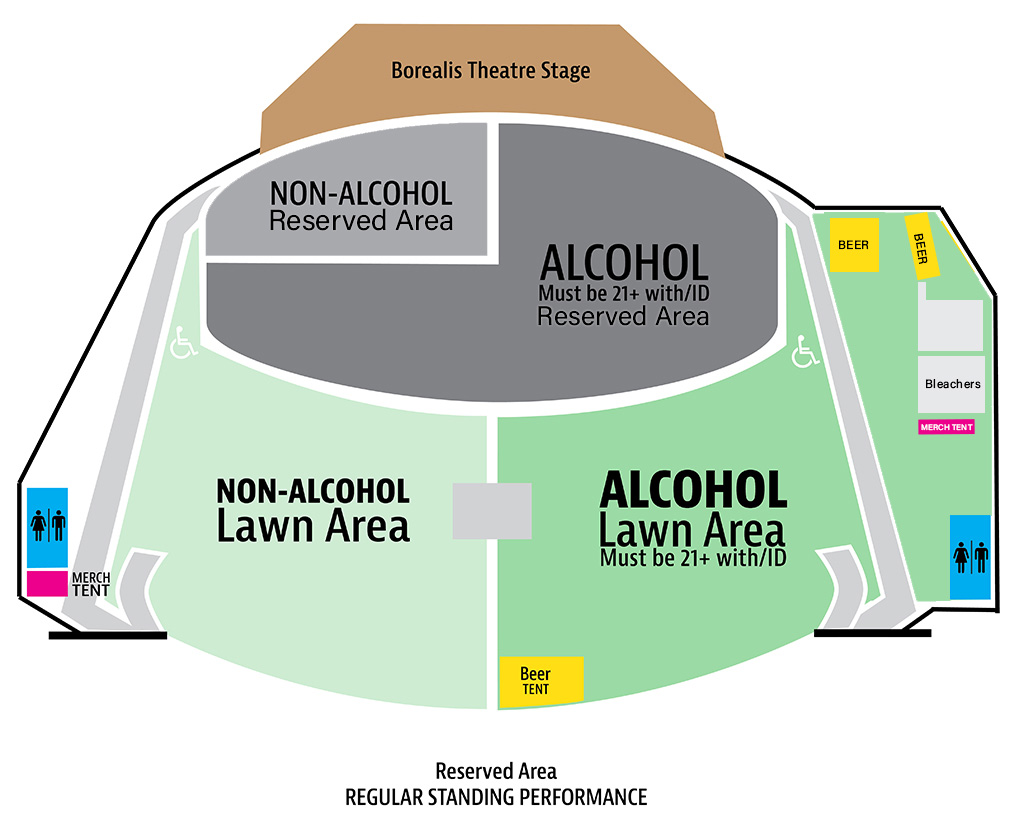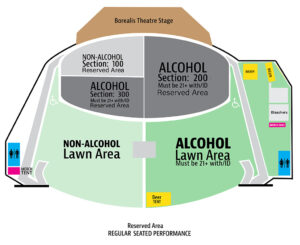 Service Animal Policy
All of us at the Fair love animals but the fairgrounds are no place for pets. The Alaska State Fair is committed to the use of service animals by our guests with disabilities.
The ADA states, "Service animals are defined as dogs that are individually trained to do work or perform tasks for people with disabilities." SERVICE animals are working animals, not pets. The work or task a dog has been trained to provide must be directly related to the person's disability. Dogs whose sole function is to provide comfort or emotional support do not qualify as SERVICE animals under the ADA. SERVICE animals play an important role in ensuring the independence of people with disabilities, and it is the Fair's policy to welcome any animal that is individually trained to assist a person with a disability.
For everyone's safety we ask that you leave your pets at home that includes comfort animals (Emotional Support Animals (ESAs), and Therapy Dogs). PETS are NOT ALLOWED since they do not receive special training and do not perform a specific task to help disabled owners. Crowds are not a good place for pets.
Please be sensitive to our guests with SERVICE animals. Visitors found to have fake service animals will be asked to leave the fairgrounds.
Please read more about SERVICE Dogs and what is covered under the Americans with Disabilities Act (ADA) here: https://www.ada.gov/service_animals_2010.htm or http://www.myassistancedoginc.org/whats-the-difference-between-emotional-support-animals-therapy-animals-and-service-dogs/ Here is a helpful guide to help those who are unable to afford the cost of a service animal as well as a list of accredited organizations who provide complete or partial financial assistance for several different causes and individuals in need. https://www.bankrate.com/personal-finance/how-to-afford-a-service-dog/
Smoke-Free Policy
It is the intent of Alaska State Fair, Inc. in enacting this policy, to provide for the health, safety, and welfare of our patrons, vendors, exhibitors, volunteers, and employees by:
Decreasing smoking related litter and accidents caused by cigarettes.
Decreasing the negative effects related to second hand smoke, an established cause of cancer and respiratory disease.
Discouraging the inherently dangerous behavior of smoking around non-tobacco users, especially children, who often wrongly associate tobacco use with a healthy lifestyle.
The policy set forth is effective January 1, 2016
Smoke-free areas
The annual Alaska State Fair is now smoke-free. Smoking is not permitted anywhere within the fenced common areas of the fairgrounds property. Smoking is also not permitted within 40 feet of the main gated entrances to the Fair. Designated smoking areas will be established and located at a minimum distance of 40 feet outside the main gated entrances to the Fair.
"Smoke –free" refers to an environment that is free of smoke from, among other things, tobacco products and/or vapors from electronic smoking devices.
"Smoke" or "smoking" means and includes: carrying, holding, inhaling, or exhaling the smoke of a lighted pipe, cigar, cigarette, or plant material; or of any other lighted or heated smoking equipment. "Smoking" also includes the use of an e-cigarette which creates a vapor, in any manner or in any form, or the use of any oral smoking device.
Signage
"No Smoking" signage will be clearly posted at all entrances and other prominent places.
Compliance
Compliance with the smoke-free fair policy is mandatory for all employees, exhibitors, vendors, volunteers, performers, and patrons visiting the fair. Employees who violate this policy are subject to disciplinary action.
Contacting us:
---
If there are any questions regarding these disclaimers and policies, you may contact us via email at [email protected] or by mail at the address below:
Alaska State Fair, Inc.
2075 Glenn Highway
Palmer, AK 99645