Venue Sponsorship
Starting at $5,000
Have you ever wanted your business name on a venue? Looking for a way to generate awareness of your business? Here is your chance! Our venues provide an opportunity for sponsors to be on property during the twelve days of the Fair. By sponsoring a Venue you receive title billing rights in all publications and media. Of course your business would be included in the name of the venue such as the Alyeska Pipeline Colony Stage.
Naming Rights
Exclusive naming of the venue during the Fair
Right of first refusal to naming rights of the venue
Hospitality Benefits
Admission, parking and concert tickets
Board of Directors Reception invitation
VIP Hospitality Lounge
Marketing Benefits
Recognized on prominent signage at the venue
Recognized as title sponsor in any print, radio and television schedules and press releases promoting venue
Recognized in Fair presentations to Chambers, Rotaries, Civic Groups and other organizations
Recognized with cross-promotion on Fair's social media channels
Recognized in association with venue in the Daily Schedule brochures
distributed at all Fair gate kiosks, information areas and Fair souvenir shops
Recognized in the printed and digital Daily Schedules and on our website
Recognized in digital Fair Program on our website in association with venue
Listed on the Fair mobile app and desktop websites, on venue page with a link to
your website
Listed on Sponsor Thank You banner on map displays
Recognized on sponsor recognition page in the Fair Annual Report
A post-Fair report which will include copies of all publicity and advertising
A Fair liaison to aid in delivery of activations and general interaction with your business partners and customers.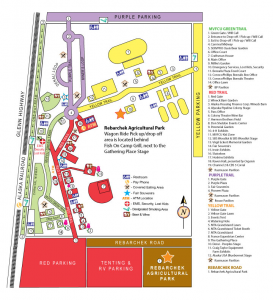 Venue Opportunities:
Oasis Beer Garden
Office Court
Millie's Garden
Borealis Plaza Tent
Borealis Box Office
Borealis Theatre
Office Lawn
Covered Eating Pavilion
Wineck Barn Garden
Wineck Barn
Colony Stage
Colony Theatre Wine Bar
Don Sheldon Events Center
Perennial Garden
4-H Exhibits
Kid Zone
Woodlot & Woodlot Stage
Virgil Eckert Memorial Garden
Irwin Exhibits
Sluicebox
Hoskins Exhibits
Raven Hall
Corral
Purple Plaza
Pioneer Plaza
Yellow Gate Lawn
Events Tent
Watering Hole Saloon
Grandstand Lawn
Grandstand Ticket Booth
Grandstand
France Equestrian Center
The Gathering Place
Dena' – People's Stage
Farm Exhibits
Bluebonnet Stage
For more information contact:
Kelly R. Larson
Director of Community and Corporate Partnerships
Direct Line: 907.746.7164 | Email: [email protected]