Looking to advertise with the Fair? We have a few options to choose from.
Fair Daily Schedule Ads
Printed Daily Schedules are distributed at gate entrances each day of the Fair.
The Alaska State Fair is the largest annual event in the state of Alaska.
Daily Schedule webpages on the Fair's website receive over 310,000 views annually.
We offer a variety of ad placement options are available to fit your needs.
| Day | Number of Printed Copies | Price |
| --- | --- | --- |
| Monday | 3,000 | $300 |
| Thursday | 3,000 | $300 |
| Friday | 8,000 | $650 |
| Saturday | 10,000 | $750 |
| Sunday | 10,000 | $750 |
| Labor Day | 8,000 | $650 |
| All 14 Days | 104,000 | $7,500 |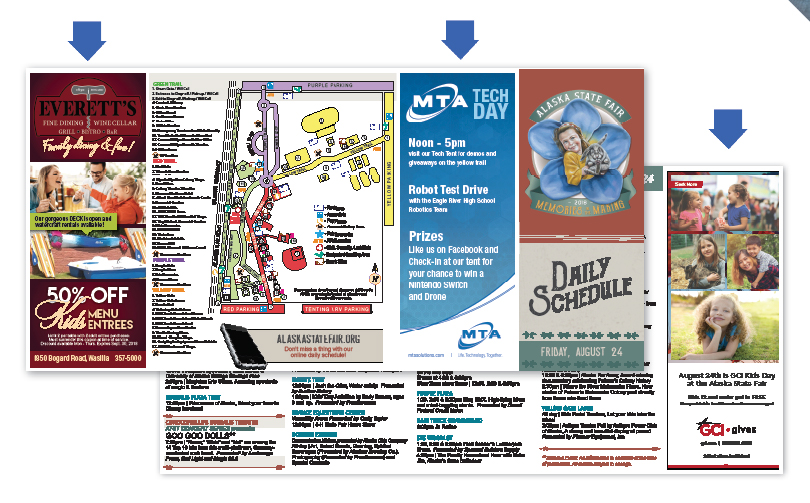 In addition to the printed daily schedules, they are also shared on our website.
AD SPECIFICATIONS: Dimensions are 3.226" x 8.25". No bleed. 300 dpi. CYMK. Acceptable file formats are PDF and JPEG. Email ad(s) to [email protected]
Sponsorship
The Numbers
As a private, non-profit 501(c)(3) corporation, the Fair relies on generous sponsors to help produce a successful Fair. Nearly 50 sponsors, plus grant funders, other donors and volunteers support everything from Fair events and programs to infrastructure projects. Our goal is to create lasting partnerships.
316,000+ Printed Marketing Materials
691,961 Unique Website Visits
13,800 Daily Glenn Highway Traffic
28,412 Borealis Concert Attendance
23.7M Economic Impact
300 Acres
97% Customer Satisfaction
291,663 Attendance
1,624,245 Overall Website Visits
17,633,090 +Social Media Impressions
$400,000 Marketing Campaign
25+ Media Partners
Competitive Exhibit Premium
Starting at $250
An ongoing Fair tradition, competitive exhibit entries are an expression of the heart and creativity of fairgoers young and old. Exhibits are the pride and joy of our communities. Interested? More details here
Concert Sponsorship
Starting at $5,000
Our concert line-up at the Borealis Theatre attracts young and old, with headliner acts ranging from country and classic rock to hard rock and hip-hop music genres. That's 12 days of Concerts! Interested? More details here
Events and Contest Sponsorship
Starting at $1,000
Throughout the Fair we have fairgoer events and contests. Some require unique skills, while others are purely for fun. You can be a catalyst for fun. Interested? More details here
Venue
Starting at $5,000
Have you ever wanted your business name on a venue? Looking for a way to generate awareness of your business? Here is your chance! Our venues provide an opportunity for sponsors to be on property during the twelve days of the Fair. By sponsoring a Venue you receive title billing rights in all publications and media. Of course your business would be included in the name of the venue such as the Alyeska Pipeline Colony Stage. Interested? More details here
Special Days at the Fair
Starting at $15,000
Each day of the Fair is available for customized activation. We help to create your unique day and greet customers at each fair entrance gate. We want to create something distinctive for you. Interested? More details here
Additional Opportunities:
Want to host a private event on the fairground? We have space for that!
For questions, please contact Kelly Larson at (907) 746-7164 or [email protected].
All ad spaces are first come, first served and are based on availability.
Connect With Us
2022 Sponsor Interest Application
Vendors can place a Classified Ad in the Jubliee Gazette
Alaska State Fair vendors can purchase classified ads per line up to the day before publication at 10am. For more information please contact Anna Rowe by email or 907.746.7150