Transportation to the Fair
We are almost ready to open the gates to the 2019 Alaska State Fair! Here is everything you need to know about getting to the Fair this year.
Getting here
Drive.
Hop in your car, pile in your friends and head to the Fair! We're located at 2075 Glenn Highway in Palmer.
Entering into the Fair Parking Map: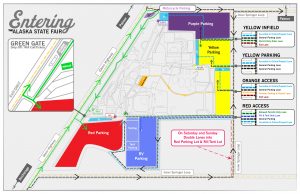 Download Printer Friendly Version (PDF)
Tow-away zones:
For pedestrian safety, parking on the Glenn Highway or right-of-way by the fairgrounds is not allowed. These areas will be closed off and clearly marked "no parking." Any vehicles parked there will be towed.
Parking Prices
Daily Car/Truck: $5
Season Car/Truck: $25
Daily Camping R.V.*: $15
Season R.V.*: $75
Daily Tent: $5
Season Tent: $30
Daily Premier: $25
Season Premier: $125
* $10 daily and $50 season additional fee for tow behind car or trailer.
Parking permits can be purchased at the Main Office through August 2 and at the Pass Office beginning August 5.
Ride the rails.
Take the Fair Train to the Alaska State Fair and save on fuel, parking and headaches! Avoid the traffic jams and enjoy a scenic and relaxing ride from the Anchorage Depot to the fair grounds in Palmer. The Fair Train operates weekends during the State Fair from the end of August through Labor Day.
Buy Tickets
Visit the Alaska Rail Road Website for more details.
2019 ALASKA RAILROAD FAIR TRAIN FARES
| | |
| --- | --- |
| Adult (12+) | $18 |
| Child in seat (0-11) | $15 |
| Child in lap (0-1) | $0 |
Fair train fares include round-trip rail service from Anchorage to the Palmer Fairgrounds and return. Only the outbound train (Anchorage to Palmer) must be specified by time of departure. Fair train fares do NOT include admission to the Alaska State Fair.
2019 ALASKA RAILROAD FAIR TRAIN SCHEDULES
Saturdays and Sundays, August 24 – 25 and August 31 – September 1 
| | |
| --- | --- |
| Depart Anchorage | Arrive Palmer |
| 12:30 PM | 2:00 PM |
| 4:30 PM | 6:00 PM |
| Depart Palmer | Arrive Anchorage |
| 2:30 PM | 4:00 PM |
| 6:45 PM | 8:15 PM |
| 10:15 PM | 11:45 PM |
Monday, September 2
| | |
| --- | --- |
| Depart Anchorage | Arrive Palmer |
| 9:00 AM | 10:30 AM |
| 12:30 PM | 2:00 PM |
| Depart Palmer | Arrive Anchorage |
| 2:30 PM | 4:00 PM |
| 6:45 PM | 8:15 PM |
Bus it.
Valley Transit is providing transit to the Alaska State Fair for the Anchorage and Mat-Su communities. Service is Monday-Friday August 22-30. To give the most service we will be utilizing our regular routes with buses to transfer (with no additional charge) to the Alaska State Fair. We will be stopping at the green gate at the fair.
Service in the Mat-Su to the Alaska State Fair
Valley Service to the fair is only $2 each way. We will be stopping at Big Lake East Lake Mall, Valley Transit Park & Ride in Meadow Lakes 8336 W Parks Highway, Yenlo Street Bus Stop, Seward Meridian Park & Ride, Trunk Road Park & Ride, and the Green Gate of the Alaska State Fair.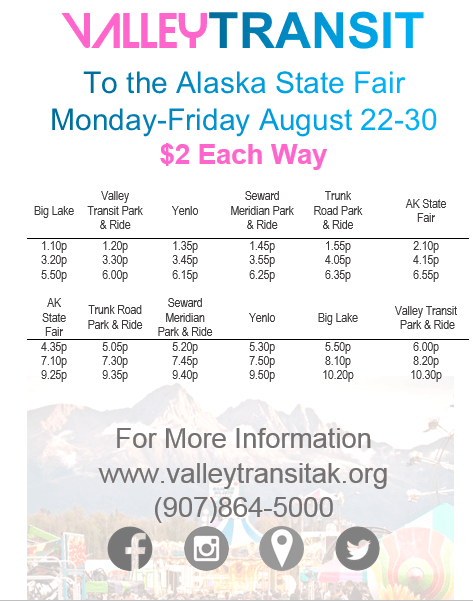 Service between Anchorage and the Alaska State Fair
Service between Anchorage and the Alaska State fair will be $7 one way or $10 day pass. We will be stopping at regular stop locations including: the Downtown Transit Center on 6th & H St, Museum Stop on 6th & C St, Northway Mall Stop on the Glenn Highway near Airport Hights Drive, the VA Clinic in Muldoon, the Trunk Road Park & Ride in Palmer, and the Alaska State Fair green gate.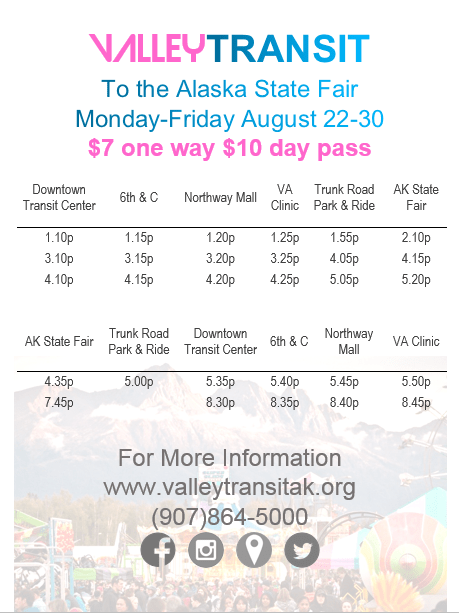 Fly.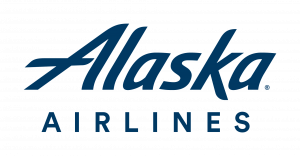 Take advantage of a special discount from our official Fair airline, Alaska Airlines! Receive 10% off any published fares between Anchorage and any intra-Alaska, Alaska Airlines city (not including Prudhoe Bay) when you fly between August 19 – September 9 2019.
Fare Code: ECMA323
MEETING FARE RULES:
Your group is entitled to a 10% approved discount off Alaska Airlines published fares (except companion and other promotional fares).
You may book and ticket on the blackout dates but no discount will apply.
Any change or cancellation after ticketing is subject to a service charge. All fare rules and additional blackout dates of the fare apply.
All tickets must be issued online or the Alaska Airlines Group desk.
A $15.00 ticketing fee will apply to any tickets issued by the Group Desk.
Meeting Fare Codes may not be posted on websites.
Park | Drop-Off | Camping

OK, you made it to the Fair – now what?
Drop off.
Want to drop off or pick up a fairgoer? Use our convenient Green Gate access! This is also the best place to drop off and pick up disabled passengers, and is the location for Will Call tickets.
Pay.
The Daily parking fee is $5 for a car or truck. Going to the Fair a bunch? Pick up a season parking permit for $25 Want the VIP treatment? Order a Daily or Season Premier Parking Permit for a little more. $25 Daily Premier Parking Permit or $125 Season Premier Parking Permit. Get your permit in advance at the Pass Office on the Fairgrounds or purchase when you get to the Fair.
Park.
There are three main parking lots: Red, Yellow and Purple. There are different traffic patterns for Weekdays (Monday – Thursday) and Weekend (Friday – Sunday). The maps also include location information on disabled, motorcycle, RV Tent and Premier Parking.
Entering into the Fair Parking Map: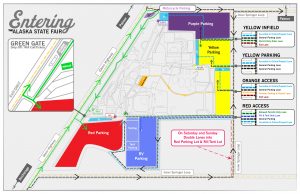 RV Parking & Tenting Regulations
If you enter the RV Campground after hours, you may purchase your RV, tent, & vehicle permit from RV Parking & Tent Sellers the next morning.
Campground hosts will routinely monitor the lots several times a day and issue citations to those who do not have proper permits. The lots will be checked several times daily to see if your permit is current. Your daily payment allows you to stay until 9:00 am the following morning. If permit is not visible or current, your vehicle/tent may be towed or removed.
Please pick up your trash and place in the provided trash containers. Trash left behind hinders other's enjoyment of the area.
The parking lot and RV lot are dangerous places for kids to play. Please restrict children's activities in the lot.
Outdoor cooking and campfires are not allowed. Any patron burning a fire will be asked to leave the property and no refund will be given.
NO ALCOHOL OUTSIDE RV or TENT.
Quiet time is 11:00 pm to 7:00 am. No loud partying or music which is disturbing to your neighbors.
Pets are not permitted inside the Fairgrounds.
Please abide by Campground Hosts requests.
RV Lot General Regulations:
Only One(1) vehicle with proper RV Vehicle Parking Permit, allowed in each 16X60 ft space.
A 16 foot wide bay space is allowed. Allow 4 feet between you and your neighbor. Only extend awnings 4 feet.
Generators are only allowed between 7am to 11 pm. If there is a medical necessity to operate a generator during quiet time, those RV's are to be parked in the Accessible area.
Do not tether your pet(s) outside your vehicle when you are away from your RV. All pets must be on a leash. Unattended pets found tied outside will be removed by the proper authorities. All animal waste must be picked up immediately.
Tent Lot Regulations
Tent permit must be visible to avoid being evicted.
 All vehicles in Tent Parking Area must have proper Parking Permit.
Registrant must be at least eighteen (18) years of age to register for a tent site.
Registered Tent Site holders are responsible for the actions of others at their tent site.
Each tent site is 10' X 10' Only one (1) tent per site.
Grouping tents together is NOT Permitted.
Generators and pets are not permitted inside the Tent Camping Area.
Things to expect along the way
Good news! At this time, there are no known construction projects or detours that will impact Fair traffic this year.