WOODWORKING
2017 Department W
FAIRGROUNDS Entry – Irwin Exhibits:
Friday, August 11, 11 a.m. – 7 p.m.
Saturday, August 12, 11 a.m. – 7 p.m.
FAIRGROUNDS Pick-up – Irwin Exhibits:
Tuesday, September 5, 2 p.m. – 8 p.m.
Saturday, September 9, 10 a.m. – 4 p.m.
The Woodworking Department is a showcase for craftspeople. Therefore, all entries must be crafted in some manner by the entrant.
Enter only once per class. Like items may not be entered in two classes. Entrants may not enter items in more than one sub-category per department.
All entries must have been completed within the last year. No part of a collection may have been entered the year before. Collections should include labels and/or interesting information. Collections and items of several pieces should be displayed and moveable as a unit.
*Entries must have approval from superintendent prior to entering items larger than 4'x8'x3' or if it is a heavy item that may need special consideration to display.
All divisions are open to all ages. If you are entering as a Junior, place the appropriate letter on the entry form under sub-category.
SUB-CATEGORIES:
A: Junior, ages 12 and under
B: Junior, ages 13 through 17
If sub-category is not specified, entry will be classified as OPEN.
Entries without entrant contact/mailing information will be automatically disqualified and not judged.
DIVISION 01: WOODWORKING
(*Please note size limits.)
Class: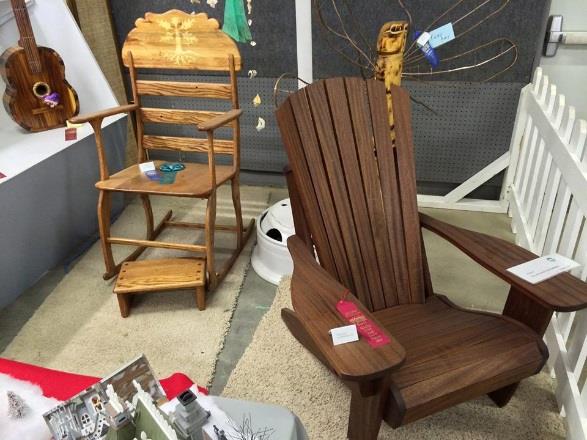 01 Beds, Headboards only. *Entries larger than 4' x 8' need pre-approval by the department superintendent.
02 Bird House
03 Boards (black boards, bread boards, game boards)
04 Boxes – band sawed
05 Boxes – bentwood
06 Boxes – coopered
07 Boxes – joined
08 Clocks
09 Conveyances (boats, canoes, kayaks, dog sleds, other sleds)
10 Cribs
11 Furniture cases (chest of drawers, hutches, desks, chests, etc.)
12 Gunstocks (no hardware included)
13 Hand tools – large (mallets, planes, etc.)
14 Hand tools – small (bobbins, knitting, etc.)
15 Jewelry Box (finished interior, possibly lined)
16 Kitchen utensils
17 Lamps (hanging, sconce, table, floor)
18 Marquetry
19 Miniatures – collector quality (executive toy quality, not child's toy)
20 Musical instruments
21 Ornaments (these are items that might be displayed on a desk or table or tree and do not fit any of the other classes and are not scroll work or turnings)
22 Seating (benches, chairs, stools)
23 Tables
24 Toys – large (Rocking horses, etc. meant to be sat on or climbed on)
25 Toys – small (for use by children/handheld)
26 Re-purposed – made into a completely different item
27 Other
DIVISION 02: WOODTURNING – FACEPLATE TURNING
Class:
01 Forms – closed (where the lip of the container turns inward, etc.)
02 Forms – open (where the lip of the container turns outward, etc.)
03 Forms – hollow (bowls, vases, etc.)
04 Forms – segmented
05 Forms – small off center (watches, bolos, etc.)
06 Large off center faceplate turnings
07 Lidded pieces
08 Miniature (small pieces of collector quality)
09 Natural edged (bowls, platters, vases, etc.)
10 Plate
11 Other
DIVISION 03: WOODTURNING – SPINDLE TURNING
Class:
01 Captured ring forms
02 Lidded forms
03 Miniature (small item)
04 Miniature (small pieces of collector quality)
05 Off center forms
06 Ornaments for table or tree
07 Pens, etc.
08 Pierced form
09 Segmented form
10 Spindle (candle holder, table, leg, cane, etc.)
11 Other
DIVISION 04: WOODCARVING
Class:
01 Animals
02 Birds
03 Birds – life size
04 Burls
05 Caricature – animal, people, etc.
06 Carousel type
07 Carvings done with professional assistance
08 Chain sawed
09 Chip carving
10 Cottonwood bark
11 Cultural styles
12 Fish
13 Gunstocks (no hardware included)
14 Human in the round
15 Miniatures
16 Relief
17 Reptiles and dragons
18 Spoons
19 Wood burning
20 Wood canes, walking sticks, and staffs
21 Other
DIVISION 05: SCROLL WORK
Class:
01 3-dimensional compound cuts
02 Boxes
03 Clocks
04 Fretwork
05 Hanging ornaments (any theme)
06 Holiday
07 Intarsia
08 Jewelry
09 Jewelry box
10 Marquetry
11 Picture – 2-dimensional
12 Picture – Multilayer
13 Picture – Segmented
14 Pins
15 Puzzle – 3-dimensional
16 Puzzle – Flat
17 Puzzle – Segmented
18 Table accessories (any theme)
19 Other
DIVISION 06: DIAMOND WILLOW
Class:
01 Canes
02 Carved
03 Carved and embellished
04 Furniture
05 Jewelry
06 Staffs or walking sticks
07 Other