Fri Aug 18

•

6:00pm

Holland America Princess (HAP) Events Tent
This event is expired.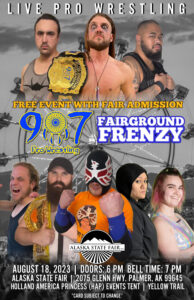 Based in Anchorage, 907 Pro Wrestling has produced monthly shows for the last 2 years featuring hometown talent accompanied by performers from all over the world.
Now, they are bringing their very own form of entertainment to the Alaska State Fair 2023.
Featuring the 907 Pro Wrestling Champion Jerry Bishop with The Reckoning, the Midnight Sun Champion Gunnar, Team Payne, Top Tier Talent, Aurora Rayne, Rena Leo, Palmer's own Cannonball Burt Ringo, fan favorite Bobcat McDillon along with many others.
This is gonna be an evening of fun for the whole family that you don't want to miss.
See you there!!
907 Pro Wrestling Facebook Page