Description: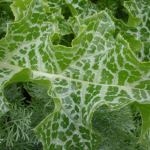 A thistle-like biennial with heavily white veined dark green leaves.
Makes a strong, lovely presence in our herb gardens.
Used in herbal remedies.
Zone:
6. we grow it only as an annual. Does not overwinter nor does it spread.
Bloom Color:
Would be purple, but does not bloom the first year.
Bloom Time:
Full sun
Light:
Height:
5-6'
Habit:
Rosette