Description: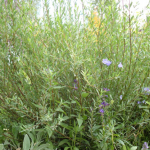 A graceful and lovely shrub for the perennial border, this willow is a favorite of any who see it.
The thin blue gray leaves cover the purple tinged stems which gently sway in the breeze.
The stems die completely back to the ground each year, but by year's end they have grown to 6' and make a stunning subtle display in the border. A must have.
Zone:
4
Bloom Color:
Does not produce catkins due to the die back.
Bloom Time:
Light:
Does best in full sun.
Height:
Tops out at 6'
Habit:
Compact shrub.