Description: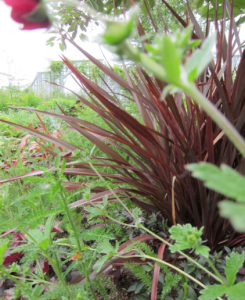 Not perennial here, this lovely plant adds great structure to any garden.
It is easily overwintered in a cold greenhouse, with the clump becoming larger and taller each year.
Zone:
7 Sorry, but this one has to spend winters indoors in Alaska. Well worth the effort, though!
Bloom Color:
Not grown for its bloom, it's the architectural linear foliage that Phormium is all
Bloom Time:
Light:
Full sun.
Height:
Tops out at 3-4'
Habit:
Upright