Description: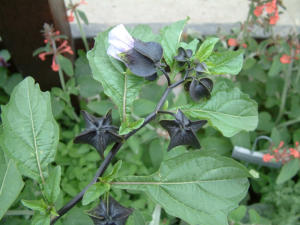 A vigorous annual with wavy margined leaves. Deep violet stems add a nice depth of color.
Light blue blooms are followed by round berries encased in green calyces which dry nicely.
The seed pods are sticky, causing many insects to get stuck to them– hence the common name of 'shoofly'.
Zone:
Annual. It does readily self sow
Bloom Color:
Light blue
Bloom Time:
All summer
Light:
Full sun
Height:
3-4'
Habit:
Upright, branching