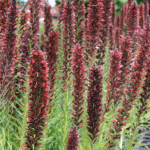 Description:
A lovely ruby colored Echium that is super hardy!
Supposedly biennial, we have found it to be reliably perennial in the gardens here at ASF.
Striking, upright spikes, bearing dark red flowers emerge from a basal rosette of hairy leaves in late June.
It likes well-drained soil & full sun although it does OK in part shade, too.
Zone:
maybe down to zone 2! But 3 for sure
Bloom Color:
Deep lovely maroon
Bloom Time:
mid-June-early July
Light:
Full sun to part shade
Height:
About 3'
Habit:
Basal clumps from which a tall spike arises