Fairtime – Parking / Camping / RV / Tickets / Maps / Hours of Operation
Parking Prices
Daily Car/Truck: $5
Season Car/Truck: $25
Daily Camping R.V.

*

: $15
Season R.V.

*

: $75
Daily Tent: $5
Season Tent: $30
Daily Premier: $25
Season Premier: $125
* $10 daily and $50 season additional fee for tow behind car or trailer.
Parking permits can be purchased at the Main Office through August 2 and at the Pass Office beginning August 5.
Pass Office
Hour of Operation:
8am – 5pm
Phone:
907.746.7178
Email:
passoffice@alaskastatefair.org
Map:
Maps
Entering the Fair/Parking Map: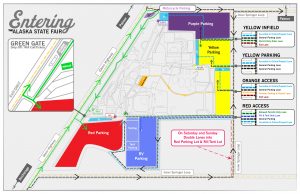 Download Printer Friendly Version (PDF)
Fairgoer Map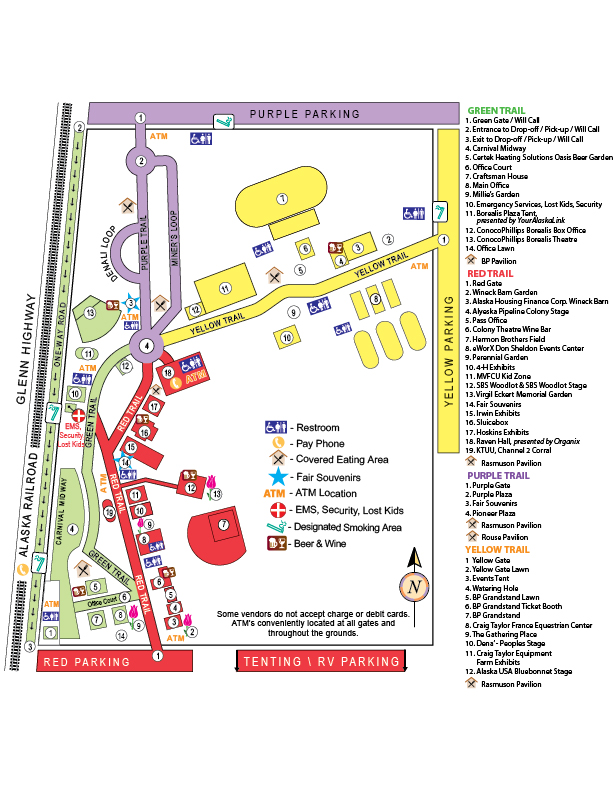 Download 2019 Fairgrounds Map (PDF, 575KB)
Tow-away zones:
For pedestrian safety, parking on the Glenn Highway or right-of-way by the fairgrounds is not allowed. These areas will be closed off and clearly marked "no parking." Any vehicles parked there will be towed.
RV Parking & Tenting Regulations
If you enter the RV Campground after hours, you may purchase your RV, tent, & vehicle permit from RV Parking & Tent Sellers the next morning.
Campground hosts will routinely monitor the lots several times a day and issue citations to those who do not have proper permits. The lots will be checked several times daily to see if your permit is current. Your daily payment allows you to stay until 9:00 am the following morning. If permit is not visible or current, your vehicle/tent may be towed or removed.
Please pick up your trash and place in the provided trash containers. Trash left behind hinders other's enjoyment of the area.
The parking lot and RV lot are dangerous places for kids to play. Please restrict children's activities in the lot.
Outdoor cooking and campfires are not allowed. Any patron burning a fire will be asked to leave the property and no refund will be given.
NO ALCOHOL OUTSIDE RV or TENT.
Quiet time is 11:00 pm to 7:00 am. No loud partying or music which is disturbing to your neighbors.
Pets are not permitted inside the Fairgrounds.
Please abide by Campground Hosts requests.
RV Lot General Regulations:
Only One(1) vehicle with proper RV Vehicle Parking Permit, allowed in each 16X60 ft space.
A 16 foot wide bay space is allowed. Allow 4 feet between you and your neighbor. Only extend awnings 4 feet.
Generators are only allowed between 7am to 11 pm. If there is a medical necessity to operate a generator during quiet time, those RV's are to be parked in the Accessible area.
Do not tether your pet(s) outside your vehicle when you are away from your RV. All pets must be on a leash. Unattended pets found tied outside will be removed by the proper authorities. All animal waste must be picked up immediately.
Tent Lot Regulations
Tent permit must be visible to avoid being evicted.
All vehicles in Tent Parking Area must have proper Parking Permit.
Registrant must be at least eighteen (18) years of age to register for a tent site.
Registered Tent Site holders are responsible for the actions of others at their tent site.
Each tent site is 10' X 10' Only one (1) tent per site.
Grouping tents together is NOT Permitted.
Generators and pets are not permitted inside the Tent Camping Area.
Fair Dates:
August 22 – September 2, 2019
Fair Hours of Operation:
Monday – Friday • Noon – 10 PM
Saturday – Sunday • 10 AM – 10 PM
Labor Day • 10 AM – 8 PM
Fair Time Business Office Hours:
8 AM – 5 PM
Phone:
Fair Location/Address:
2075 Glenn Hwy., Palmer, AK 99645
Address: