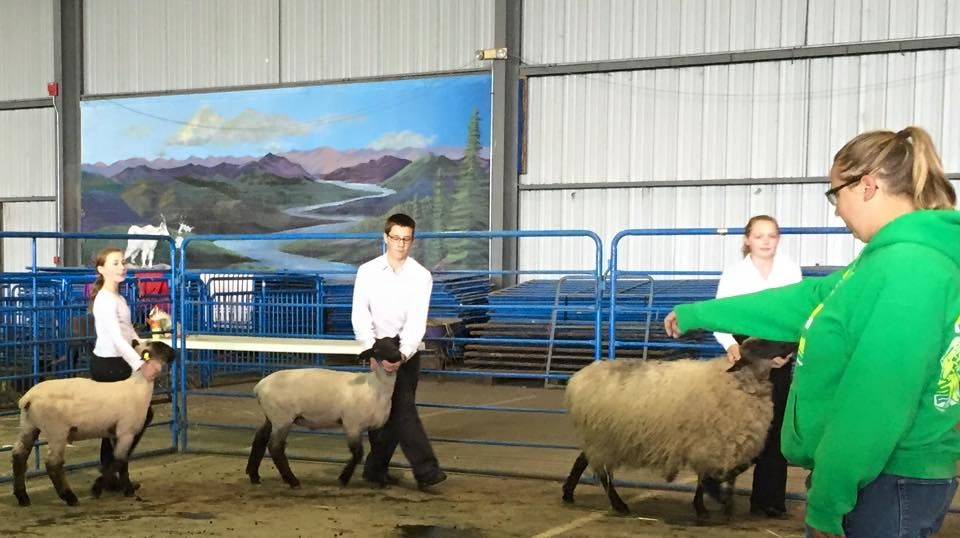 A lot of kids are excited to head for the Alaska State Fair this weekend, but probably none so much as the youth participating in the 4-H Junior Market Livestock Auction. The 97 students participating in this year's auction have spent much of the past year raising an animal for the auction, which takes place this coming Saturday, September 5 in Farm Exhibits at the fairgrounds.
"I am very excited about this fair! I can't wait until the auction," says Destiny Reimers, a third-year member of the Idea Champions 4-H Club, who has raised a turkey for this year's auction.
The auction is open to everyone, whether they want to buy an animal or just show their support for the hard-working group of youth, who range in age from 9 to 18.
"If there are people and businesses in the community that enjoy seeing and promoting youth involvement in business and agriculture, this is one event they will not want to miss," says Trisha Beames, the corresponding secretary for the Mat-Su Copper River District 4H VLA.
Many of the 4-H youth, including Ryan Eklund, have raised their animals from birth. "I am very proud of and love my goat. I am thankful that I was able to assist in his birth, and I've cared for him every day since," says 10-year-old Ryan.
"These youth have worked especially hard to raise and provide quality market animals," says Trisha. "They have had to keep extensive record books, attend educational clinics throughout the year and have had to adhere to strict project monitoring guidelines. It is wonderful to see young people today learning life skills of hard work, patience, perseverance and responsibility."
A small portion of the auction proceeds go back to 4-H to support the program, and the remainder goes directly to the youth participants, who pour their time, energy and resources into raising animals for the event. Esther Lytle, a four-year member of the Colony Clovers 4-H Club, plans to use her auction money to grow her goat herd – and her college fund – while 14-year-old Harley Lytle will put his money toward his future college degree in wildlife biology.
"Many young people have used the 4-H experience as a stepping stone into a lifetime of work with animals by becoming farmers, ranchers, trainers, veterinarians, animal scientists, educators, professional herdsmen and other related careers," says Kelee Eklund, president of the livestock committee. "Even those not pursuing agricultural-related careers learn about responsibility, work ethic, financial management, and health and nutrition."
Want to buy an animal? Bidders can check in and preview the animals starting at 10 a.m. on Saturday. The auction begins at noon.
Can't make it to the auction in person? You can obtain a sealed bid form that allows you to make a specific dollar amount bid on an animal in advance, and a proxy bid will be made on your behalf at the auction.
But even if you don't want to bid, there are plenty of reasons to attend the auction, which celebrates its 40th anniversary this year:
Preview of auction animals from 10 a.m. – noon.
Live music by the Colony High School Jazz Band, from 10 – noon. The band will also start the auction by performing the National Anthem.
Raffle drawings throughout the auction. Winners will receive goodie bags filled with handmade, Alaska Grown gifts from 4-H students.
Not planning to bid? There are several other ways to support the program:
Make an "add on" donation to a specific student after the high bid is announced or at the end of the auction.
Make a donation to the Charitable Buyers Club, a group that makes sure all animals at the auction are sold for a reasonable and fair market value. The meat is then donated to the local food bank.
At last count, this year's auction is expected to feature:
18 beef
35 swine
43 turkeys
28 lambs
8 goats
3 geese
18 pens of chickens (pen of three)
5 pens of ducks
7 pens of rabbits
3 pens of game birds
The animals can be seen in the auction preview, which will begin at 10 a.m. on Saturday, or at one of this week's 4-H livestock shows (see the Fair daily schedule for details):
Wednesday, September 2: Market Class Shows, 3 – 8 p.m.
Thursday, September 3: Breeding Class Shows, 1 – 4 p.m.
Friday, September 4: Showmanship Shows, 11 a.m. – 4 p.m.
"Without the communities' support, the 4-H Junior Market Livestock Auction could not happen," Destiny says. "Thank you so much!"