Fri Sep 02

•

7:00pm

ConocoPhillips Borealis Theatre
This event is expired.
Concert Ticket Only
| Area | Price |   |
| --- | --- | --- |
| Lawn | $49 | BUY |
| Reserved | $59 | BUY |
These tickets are for the concert only, you will need to purchase additional Fair admission to attend.
Gates Open: 5:30 PM
Show Type: Reggae Fusion 
Restrictions: No chairs, standing only in reserved area. Alcohol (Wet) (Must be 21+ with Valid ID) and Non-Alcohol (Dry) areas available. No Personal Chairs. Come prepared for the weather. Limited bleacher seating is available in the Alcohol area.
Concert Seating info  | Theatre and ticketing
Shaggy & Common Kings
Born Orville Richard Burrell and raised in Kingston, Jamaica, Shaggy got his start as an MC in New York City's dancehall scene soon after moving to Brooklyn in his teens. Not long after serving four years in the U.S. Marines, including two tours of duty in the Middle East as part of Operation Desert Storm, he inked his first record deal and quickly scored a global crossover smash with "Oh Carolina."
As the only diamond-selling dancehall artist in music history, Shaggy has sold more than 40 million album units to date, in addition to landing eight singles on the Billboard Hot 100 and seven albums on the Billboard 200, including four in the Top 40. The pioneering reggae/dancehall icon, multi-award-winning songwriter and hitmaker has also received two Grammy® Awards and is among the top three streamed reggae artists of all time on Spotify.
Joining Shaggy on stage are Common Kings, delivering a little rock, a little reggae and a little island style, mixed up with some head-rocking beats and some feel-good vibes. Known for their crazy, fun-loving attitude, the band has produced hits such as "Wade in Your Water," "24/7," "Alcoholic," "Fish in the Sea" and "No Other Love," as heard on albums including One Day, Lost in Paradise, Hits and Mrs., and Summer Anthems.
The majority of Common Kings' members were born in the South Pacific, and raised in Orange County, California. They grew up inspired by artists like Van Morrison, Stevie Wonder, Geourge Benson, Jim Croce, Michael Jackson, The Who, Led Zepplin, Gypsy Kings, Earth Wind and Fire, and Bob Marley, whose influence made Common Kings who they are today.
Music Videos
Angel – Shaggy
Wade in Your Water – Common Kings
Spotify Playlist
ConocoPhillips Borealis Theatre and Ticket Info
Concert ticket prices do not include Fair admission. Convenience fees apply. Babes-in-arms admitted for free; children aged 2 and up must have a ticket. During the Fair, concert tickets may also be purchased on the fairgrounds at the Borealis Box Office, across from the Borealis Theatre. The ConocoPhillips Borealis Theatre is an open-air theatre; shows take place rain or shine. Both entrance gates open approximately one hour prior to the show. Personal chairs, professional grade cameras, cameras with detachable lenses and recording devices are strictly prohibited. There are 2 entry gates to the theatre; a "wet" gate directly into the alcohol consumption areas and a "dry" gate accessible by all ages. If you enter through the "dry" gate, you may cross into the "wet" area once you're inside the theatre. To access any area with alcohol consumption, including entering through the "wet" gate, you must be 21 or over and present a valid photo ID, or be accompanied by a parent or legal guardian and present a valid photo ID.
Concert Seating Map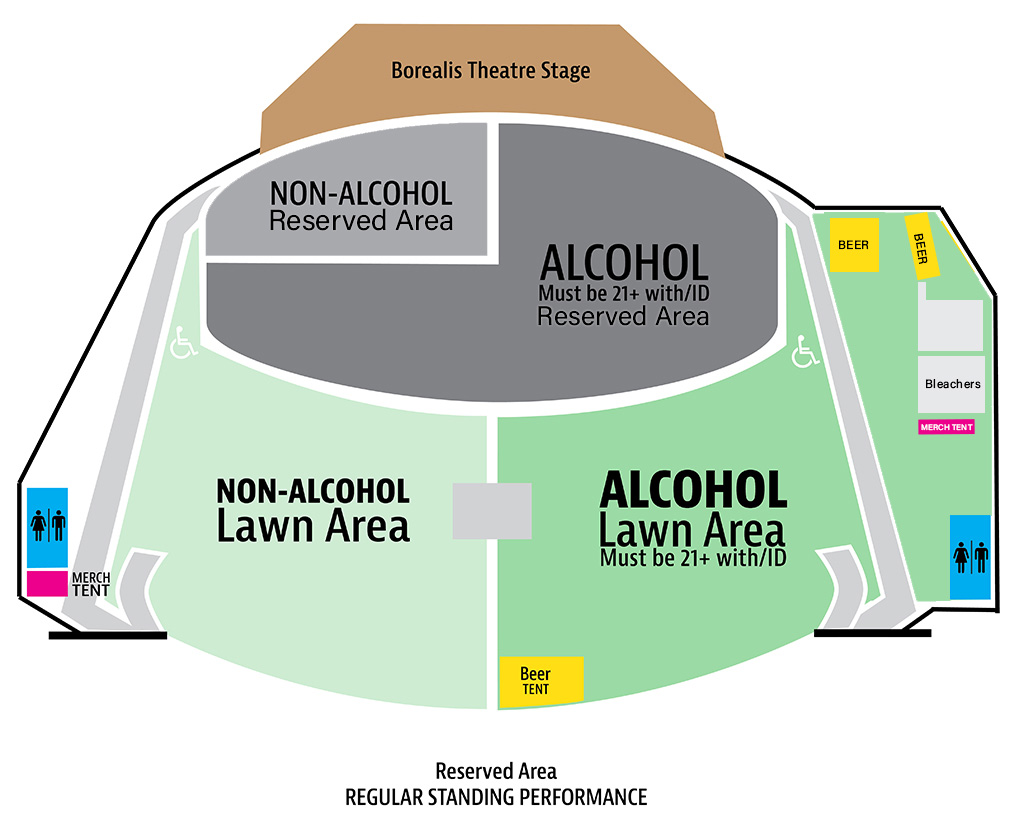 There are "wet" (alcohol consumption permitted) and "dry" (no alcohol) areas. To enter the "wet" area, you must be aged 21 or older and present a valid photo ID, or be accompanied by a parent or legal guardian and present a valid photo ID. Wheelchair accessible seating areas are available in both the reserved and lawn areas. Some concerts have chairs in the reserved area. There are no chairs in the lawn area. Limited bleacher seating is available on the "wet" side of the lawn area. Please check each concert page for more information.