Sat 27 Aug 2022

•

7:00pm

ConocoPhillips Borealis Theatre
This event is expired.
Concert Ticket Only
| Area | Price |   |
| --- | --- | --- |
| Lawn | $ 49 | BUY |
| Reserved | $ 79 | BUY |
These tickets are for only the concert, you will need to purchase additional Fair admission to attend.
Gates Open: 5:30 PM
Show Type: Country
Restrictions: Alcohol (Wet) (Must be 21+ with Valid ID) and Non-Alcohol (Dry) areas available. No Personal Chairs. Come prepared for the weather. Limited bleacher seating is available in the Alcohol area.
Concert Seating info  | Theatre and ticketing
LeAnn Rimes
LeAnn Rimes is an international multi-platinum-selling singer and ASCAP award-winning songwriter who has sold more than 48 million units globally, won two Grammy® Awards; 12 Billboard Music Awards; two World Music Awards; three Academy of Country Music Awards; two Country Music Association Awards and one Dove Award. Rimes is currently celebrating her 25th anniversary as a recording artist, commemorating the release of her debut album, Blue. Her next studio album, God's Work, will release in September 2022.
At just 14, Rimes won Best New Artist, making her the youngest recipient to take home a Grammy® Award. The acclaimed singer/songwriter has also been honored with the Ally of Equality Award by the Human Rights Campaign for over 20 years of equal rights support, the 2019 HOPE Award for Depression Advocacy, and 2009 ACM Humanitarian Award, among other recognitions, recognizing her dedication to making the world a better place.
The powerhouse vocalist lit up television screens throughout the 2018 holiday season as she starred and served as an executive producer in Hallmark's "It's Christmas, Eve," which earned the highest TV original movie debut to-date for the channel, premiering to over 4.3 million viewers. In 2020, Rimes won season four of FOX's The Masked Singer, with what Entertainment Weekly described as "the most beautiful performance in the history of The Masked Singer."
Passionate about using her voice to help heal the world, Rimes released a chant record called CHANT: The Human and The Holy in 2020. Her iHeartRadio podcast, Wholly Human, is now in its second season of introducing fans to the teachers and wise souls that have made a positive impact on Rimes' life.  Rimes also currently serves as the inspiration judge on the discovery+ competition series, Meet Your Makers Showdown.
Music Videos
How do I live – LeAnn Rimes
Cant fight the Moonlight – LeAnn Rimes
Spotify Playlist
ConocoPhillips Borealis Theatre and Ticket Info
Concert ticket prices do not include Fair admission. Convenience fees apply. Babes-in-arms admitted for free; children aged 2 and up must have a ticket. During the Fair, concert tickets may also be purchased on the fairgrounds at the Borealis Box Office, across from the Borealis Theatre. The ConocoPhillips Borealis Theatre is an open-air theatre; shows take place rain or shine. Both entrance gates open approximately one hour prior to the show. Personal chairs, professional grade cameras, cameras with detachable lenses and recording devices are strictly prohibited. There are 2 entry gates to the theatre; a "wet" gate directly into the alcohol consumption areas and a "dry" gate accessible by all ages. If you enter through the "dry" gate, you may cross into the "wet" area once you're inside the theatre. To access any area with alcohol consumption, including entering through the "wet" gate, you must be 21 or over and present a valid photo ID, or be accompanied by a parent or legal guardian and present a valid photo ID.
Concert Seating Map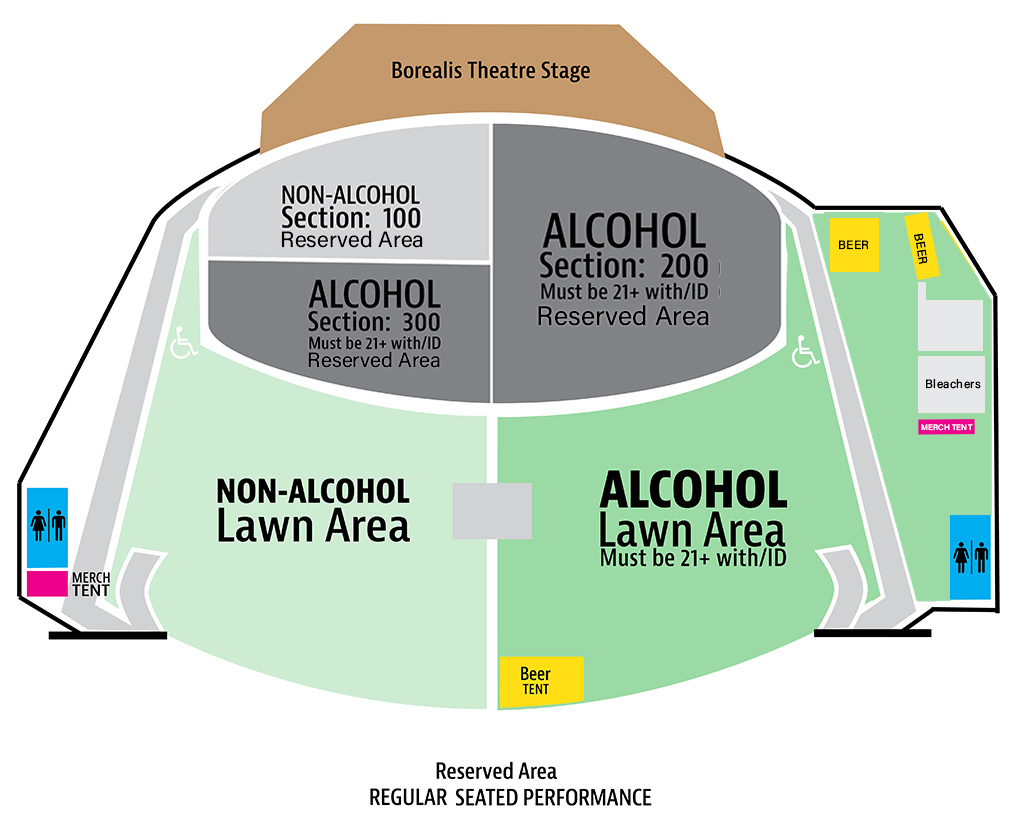 There are "wet" (alcohol consumption permitted) and "dry" (no alcohol) areas. To enter the "wet" area, you must be aged 21 or older and present a valid photo ID, or be accompanied by a parent or legal guardian and present a valid photo ID. Wheelchair accessible seating areas are available in both the reserved and lawn areas. Some concerts have chairs in the reserved area. There are no chairs in the lawn area. Limited bleacher seating is available on the "wet" side of the lawn area. Please check each concert page for more information.