Sun Aug 28

•

6:00pm

ConocoPhillips Borealis Theatre
This event is expired.
Concert Ticket Only
| Area | Price |   |
| --- | --- | --- |
| Lawn | $ 19 | BUY |
| Reserved | $ 25 | BUY |
These tickets are for only the concert, you will need to purchase additional Fair admission to attend.
Gates Open: 4:30 PM
Show Type: Comedy
Restrictions: Alcohol (Wet) (Must be 21+ with Valid ID) and Non-Alcohol (Dry) areas available. No Personal Chairs. Come prepared for the weather. Limited bleacher seating is available in the Alcohol area.
Concert Seating info  | Theatre and ticketing
Dry Bar Comedy
Dry Bar Comedy, the wildly popular online series of clean "Comedy for Everyone," is expanding to live shows! Fans of the online comedy sensation can now see the comedians they've come to know and love live and in person.
Since its launch just last year, Dry Bar Comedy specials have generated over 1 billion views on social media and earned millions of fans. Now, Dry Bar will maintain its whirlwind momentum by producing live shows across the U.S.
The live shows will feature comedians who've become Dry Bar fan favorites. These same professional comedians have also performed on many late night shows, including The Tonight Show, Jimmy Kimmel, Netflix Comedy, TBS's Conan, Comedy Central, and more.
Music Videos
Only certain people should have long hair. Gabriel Rutledge – Dry Bar Comedy
Nobody wants a house filled with knick knacks. Cliff Cash – Dry Bar Comedy
ConocoPhillips Borealis Theatre and Ticket Info
Concert ticket prices do not include Fair admission. Convenience fees apply. Babes-in-arms admitted for free; children aged 2 and up must have a ticket. During the Fair, concert tickets may also be purchased on the fairgrounds at the Borealis Box Office, across from the Borealis Theatre. The ConocoPhillips Borealis Theatre is an open-air theatre; shows take place rain or shine. Both entrance gates open approximately one hour prior to the show. Personal chairs, professional grade cameras, cameras with detachable lenses and recording devices are strictly prohibited. There are 2 entry gates to the theatre; a "wet" gate directly into the alcohol consumption areas and a "dry" gate accessible by all ages. If you enter through the "dry" gate, you may cross into the "wet" area once you're inside the theatre. To access any area with alcohol consumption, including entering through the "wet" gate, you must be 21 or over and present a valid photo ID, or be accompanied by a parent or legal guardian and present a valid photo ID.
Concert Seating Map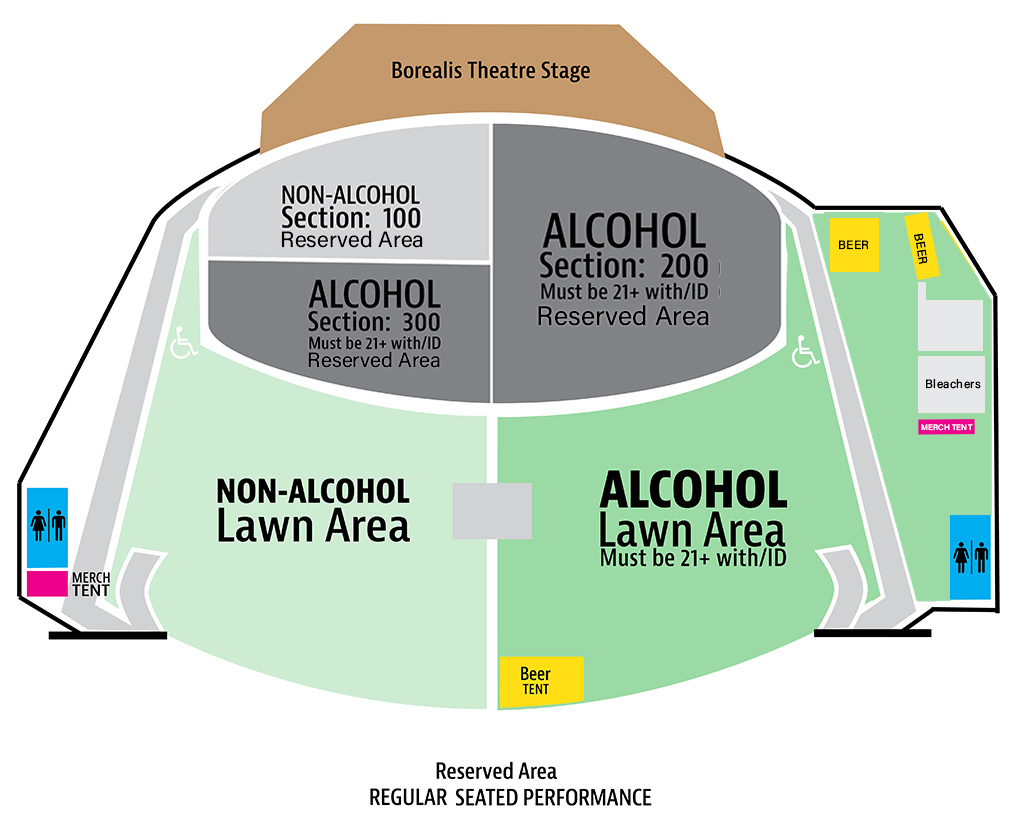 There are "wet" (alcohol consumption permitted) and "dry" (no alcohol) areas. To enter the "wet" area, you must be aged 21 or older and present a valid photo ID, or be accompanied by a parent or legal guardian and present a valid photo ID. Wheelchair accessible seating areas are available in both the reserved and lawn areas. Some concerts have chairs in the reserved area. There are no chairs in the lawn area. Limited bleacher seating is available on the "wet" side of the lawn area. Please check each concert page for more information.