Sun 21 Aug 2022

•

6:00pm

ConocoPhillips Borealis Theatre
This event is expired.
Concert Ticket Only
| Area | Price |   |
| --- | --- | --- |
| Lawn | $39 | BUY |
| Reserved | $49 | BUY |
These tickets are for only the concert, you will need to purchase additional Fair admission to attend.
Gates Open: 4:30 PM
Show Type: Classic Rock
Restrictions: Alcohol (Wet) (Must be 21+ with Valid ID) and Non-Alcohol (Dry) areas available. No Personal Chairs. Come prepared for the weather. Limited bleacher seating is available in the Alcohol area.
Concert Seating info  | Theatre and ticketing
Blue Oyster Cult
For five decades, Blue Öyster Cult has been thrilling fans of intelligent hard rock worldwide with powerful albums loaded with classic songs. The Long Island, New York‐based band is revered within the hard rock and heavy metal scene for its pioneering work, and is one of few hard rock/heavy metal bands to earn both genuine mainstream critical acclaim as well as commercial success. Blue Öyster Cult is often cited as a major influence by other acts such as Metallica, and the band was listed in VH1's countdown of the greatest hard rock bands of all time.
Upon the release of Blue Öyster Cult's self-titled debut album in 1972, the band was praised for its catchy, yet-heavy music and lyrics that could be provocative, terrifying, funny or ambiguous, often all in the same song.
Blue Öyster Cult's canon includes three stone-cold classic songs: The haunting "(Don't Fear) The Reaper" from 1976's Agents of Fortune, the pummeling "Godzilla" from 1977's Spectres, and the hypnotically melodic "Burnin' for You" from 1981's Fire of Unknown Origin.
Other notable Blue Öyster Cult songs include "Cities on Flame with Rock and Roll," "Then Came the Last Days of May," "I Love the Night," "In Thee," "Veteran of the Psychic Wars," "Dominance and Submission," "Astronomy," "Black Blade" and "Shooting Shark."
Blue Öyster Cult's original core duo, vocalist/lead guitarist Donald "Buck Dharma" Roeser and vocalist/rhythm guitarist Eric Bloom, is complemented by Richie Castellano on guitar and keyboards, bass guitarist Danny Miranda, and drummer Jules Radino.
Blue Öyster Cult maintains a relentless touring schedule and released an album of new material, THE SYMBOL REMAINS, in October 2020 to rave reviews.
Music Videos
Don't Fear the Reaper – Blue Oyster Cult
Burnin' For You – Blue Oyster Cult
Spotify Playlist
ConocoPhillips Borealis Theatre and Ticket Info
Concert ticket prices do not include Fair admission. Convenience fees apply. Babes-in-arms admitted for free; children aged 2 and up must have a ticket. During the Fair, concert tickets may also be purchased on the fairgrounds at the Borealis Box Office, across from the Borealis Theatre. The ConocoPhillips Borealis Theatre is an open-air theatre; shows take place rain or shine. Both entrance gates open approximately one hour prior to the show. Personal chairs, professional grade cameras, cameras with detachable lenses and recording devices are strictly prohibited. There are 2 entry gates to the theatre; a "wet" gate directly into the alcohol consumption areas and a "dry" gate accessible by all ages. If you enter through the "dry" gate, you may cross into the "wet" area once you're inside the theatre. To access any area with alcohol consumption, including entering through the "wet" gate, you must be 21 or over and present a valid photo ID, or be accompanied by a parent or legal guardian and present a valid photo ID.
Concert Seating Map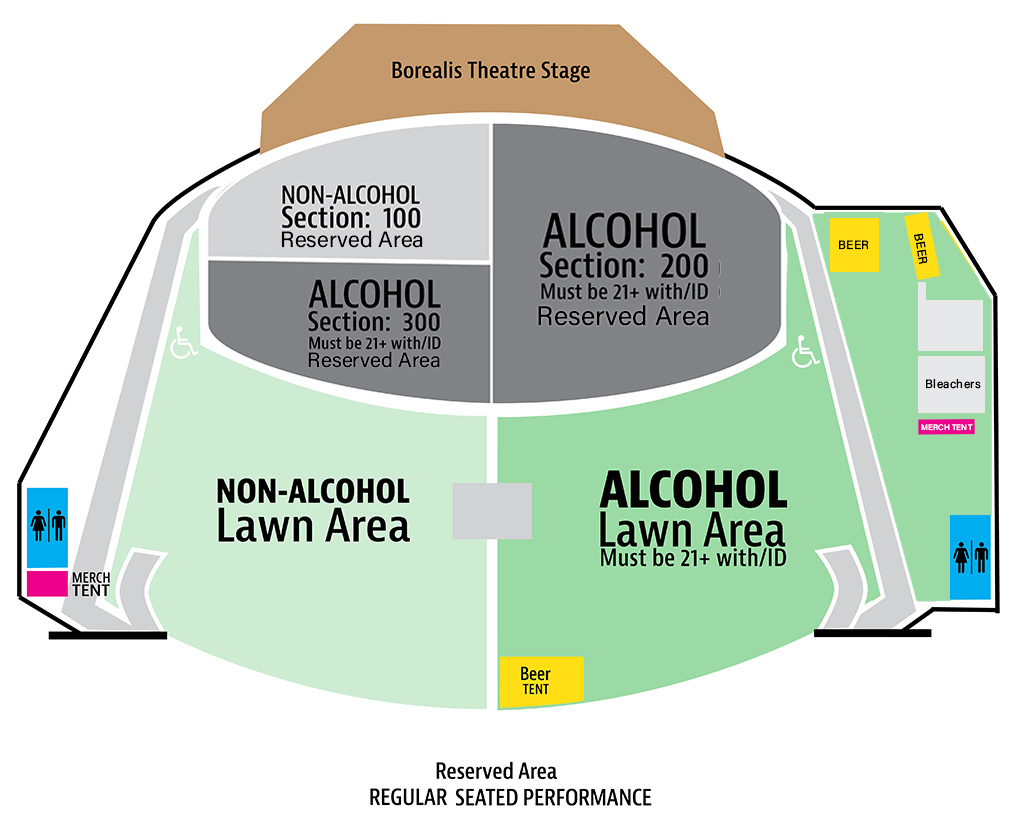 There are "wet" (alcohol consumption permitted) and "dry" (no alcohol) areas. To enter the "wet" area, you must be aged 21 or older and present a valid photo ID, or be accompanied by a parent or legal guardian and present a valid photo ID. Wheelchair accessible seating areas are available in both the reserved and lawn areas. Some concerts have chairs in the reserved area. There are no chairs in the lawn area. Limited bleacher seating is available on the "wet" side of the lawn area. Please check each concert page for more information.