Sun Sep 04

•

6:00pm

ConocoPhillips Borealis Theatre
This event is expired.
Concert Ticket Only
| Area | Price |   |
| --- | --- | --- |
| Lawn | $49 | BUY |
| Reserved | $59 | BUY |
These tickets are for only the concert, you will need to purchase additional Fair admission to attend.
Gold VIP Package
| Area | Price |   |
| --- | --- | --- |
| Reserved | $194 | BUY |
The Gold VIP Package which includes one concert ticket, invitation to Pre-show soundcheck viewing access and meet & greet, one Barenaked Ladies merch package designed exclusively for VIP purchasers and one commemorative VIP laminate. Gold package purchasers should be prepared to arrive at the venue as early as 2 pm on day of show. All package elements will be rendered invalid if resold. Offer ends August 28.
Gates Open: 4:30 PM
Show Type: Alternative Rock
Restrictions: No chairs, standing only in reserved area. Alcohol (Wet) (Must be 21+ with Valid ID) and Non-Alcohol (Dry) areas available. No Personal Chairs. Come prepared for the weather. Limited bleacher seating is available in the Alcohol area.
Concert Seating info  | Theatre and ticketing
Barenaked Ladies
Over the course of 33 years, multi-platinum Canadian rock band Barenaked Ladies has sold 15 million records worldwide and built up an arsenal of hits such as "If I Had $1,000,000," "One Week," "Pinch Me" and "The Big Bang Theory Theme." Widely acknowledged as one of the best live acts on the planet, the Toronto quartet has hosted a cruise ("Ships and Dips"), had its own ice cream flavor, won eight Juno Awards in Canada, and was inducted into the Canadian Music Hall of Fame during 2018. Known for being very diverse in their work, Barenaked Ladies' sound ranges from verbal playfulness and whimsy to reflective and philosophical, as experienced on the band's 16th studio album Detour de Force, released in July 2021. Barenaked Ladies features Ed Robertson (guitar, vocals), Jim Creeggan (bass, vocals), Tyler Stewart (drums, vocals) and Kevin Hearn (keyboards, guitar, vocals).
Music Videos
Pinch Me – Barenaked Ladies
The Old Apartment – Barenaked Ladies
Spotify Playlist
ConocoPhillips Borealis Theatre and Ticket Info
Concert ticket prices do not include Fair admission. Convenience fees apply. Babes-in-arms admitted for free; children aged 2 and up must have a ticket. During the Fair, concert tickets may also be purchased on the fairgrounds at the Borealis Box Office, across from the Borealis Theatre. The ConocoPhillips Borealis Theatre is an open-air theatre; shows take place rain or shine. Both entrance gates open approximately one hour prior to the show. Personal chairs, professional grade cameras, cameras with detachable lenses and recording devices are strictly prohibited. There are 2 entry gates to the theatre; a "wet" gate directly into the alcohol consumption areas and a "dry" gate accessible by all ages. If you enter through the "dry" gate, you may cross into the "wet" area once you're inside the theatre. To access any area with alcohol consumption, including entering through the "wet" gate, you must be 21 or over and present a valid photo ID, or be accompanied by a parent or legal guardian and present a valid photo ID.
Concert Seating Map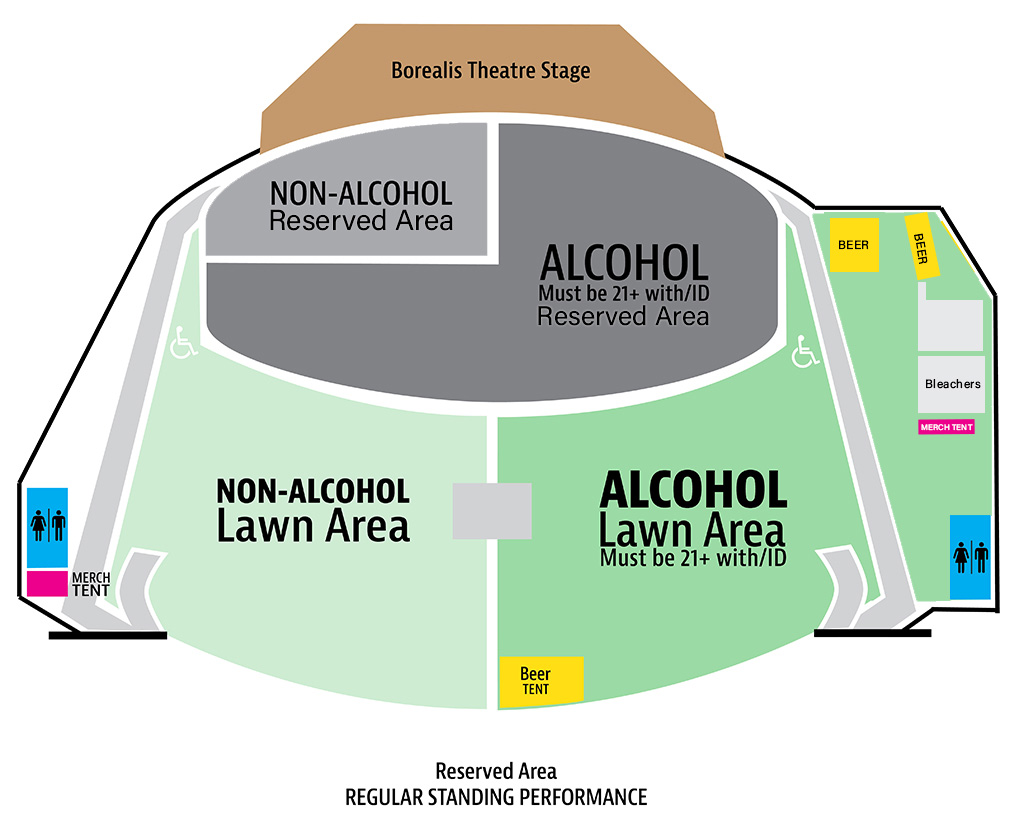 There are "wet" (alcohol consumption permitted) and "dry" (no alcohol) areas. To enter the "wet" area, you must be aged 21 or older and present a valid photo ID, or be accompanied by a parent or legal guardian and present a valid photo ID. Wheelchair accessible seating areas are available in both the reserved and lawn areas. Some concerts have chairs in the reserved area. There are no chairs in the lawn area. Limited bleacher seating is available on the "wet" side of the lawn area. Please check each concert page for more information.