Blog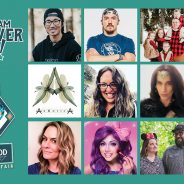 It's almost Fair Time, and what better way to kick it off than the "Third Annual Alaska State Fair Instagram Takeover?" Talk about #CrazyGood #AKFairFun!
What's a Takeover, you ask? Well, Takeovers are popular activities on social networks, especially Instagram, where different people – usually celebrities or well-known personalities – "take over" someone else's account for a period of time and post their own content.
From August 22 through September 2, experience the sights and sounds of the Fair through the eyes of Alaskans who will share their unique perspectives on the Official Alaska State Fair Instagram Feed.
Follow the hashtag #AKFairFun on Instagram and Twitter to see their posts each day.
So who are our 2019 Alaska State Fair Influencers? We'll let them introduce themselves!
8/22 Thursday – Energy Day
Don Chon
Day Sponsor: AOGA
Anchorage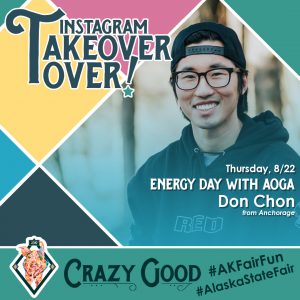 I am a Cinematographer/Photographer. I have been taking photos for about 10 years and filming for 5. I do everything from concert recap videos to weddings to commercials and basically anything behind the camera. I post the majority of my content on Instagram, and I have a YouTube Channel where I have a podcast and other pieces of content like vlogging or creative shorts I film shot with either my RED Gemini Cinema Camera or 1DX Mkii or GH5.
INSTAGRAM – https://instagram.com/don2chon/
8/23 Friday – GCI Kids Day
Nick Hanson
Day Sponsor: GCI
Unalakleet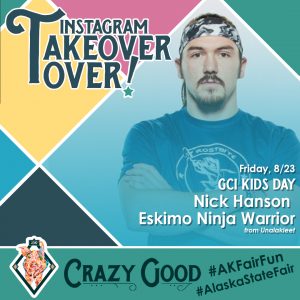 As a motivational speaker, I have made it my goal in life to reach as many youth as possible with the message – "Know Who You Are". As a World Eskimo Indian Olympics athlete [competing domestic and internationally] & a 4X Competitor on the TV Show American Ninja Warrior, The Eskimo Ninja has become a household name. After a narrow elimination in 2015 (3 TENTHS OF A SECOND!!), this Inupiaq from Unalakleet, Alaska, has only continued to improve, hitting every qualifying buzzer since, including conquering the 18ft Mega Wall in Season 10! I have also qualified for the Las Vegas finals every year since my first appearance on the show, and have made it to Stage 2 of the finals. But thats not enough. With much larger goals in mind, The Eskimo Ninja hopes to conquer the Ultimate Ninja Goal — conquer Mt. Madoriyama.
INSTAGRAM – https://instagram.com/eskimoninja/
8/24 Saturday – Club49 Family Day
Jessica Somers – Somers in Alaska
Day Sponsor: Alaska Airlines
North Pole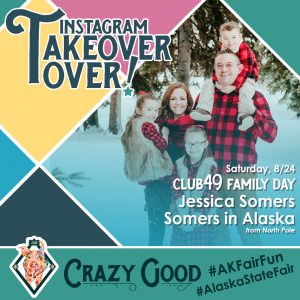 We are the Somers family – a family of five living in North Pole, Alaska! Small business owners, property managers, and a homeschooling family documenting our life here in Alaska on our YouTube channel SomersInAlaska. We started building our dream Alaskan Farmhouse three years ago and wanted to document the process along the way, all while capturing our family memories. We love sharing tips and helpful information with our viewers who plan to visit or one day move to the amazing state of Alaska!
INSTAGRAM – http://instagram.com/somersinalaska
YOUTUBE – www.youtube.com/somersinalaska
8/25 Sunday – Destination Day
Jess Crow – Crow Creek Designs
Palmer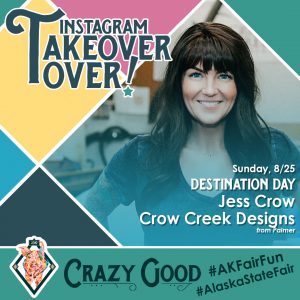 I am Jess Crow, the owner and operator of Crow Creek Designs located in Palmer! I am a furniture designer and builder specializing in artistic concepts capturing the wilds of Alaska, oceans from around the world, and much more. My work can be seen in local restaurants, as well as across the nation on a smaller scale. I grew up in Fairbanks and moved down to Anchorage when I was a teen; finally calling the Valley home after the births of my three daughters.
INSTAGRAM – http://instagram.com/crowcreekdesigns
8/26 Monday – Wellness Day
Michelle Sparck – ArXotica
Day Sponsor: Southcentral Foundation
Bethel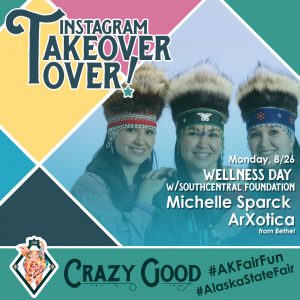 ArXotica, an amalgam of Arctic and Exotic, is a triplet sister-owned enterprise. We source our own micro-nutrient rich ingredients from the Yukon-Kuskokwim province for a refined skin care line. We work to become a strong brand presence in the beauty industry that has, at its center, social responsibility to the Arctic and conservation of its resources.
INSTAGRAM – http://instagram.com/arxotica
8/27 Tuesday – Senior Day
Laura Sampson – Little House, Big Alaska
Palmer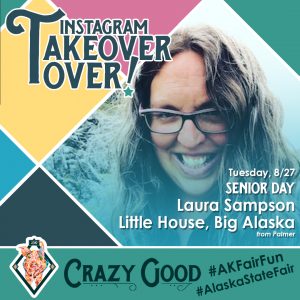 I'm the baker behind the BBC-featured group, "The Great British Baking Show Bake-Along." I love to bake in my 1935 Farmhouse in Palmer, Alaska. Thankfully, I have teen boys to help me enjoy all the goodies I create. Besides writing at Little House Big Alaska, my husband and I also own Palmer Folk School. I'm happiest when I'm creating my next in-person or online food event. What will it be next? Tune in and find out!
INSTAGRAM – https:/instagram.com/littlehousebigalaska/
FACEBOOK – http://facebook.com/littlehousebigalaska
8/28 Wednesday – Cosplay Day
Keri Lord – SubZero Heroes Alaska
Anchorage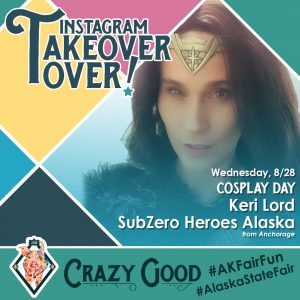 I'm a local volunteer superhero and princess cosplayer on a mission to make kids smile. In 2018, I organized the all-volunteer superhero and villain group SubZero Heroes Alaska. Teaming up with local businesses, nonprofit and charity groups, we are able to bring "superhero magic" to community events and fundraisers. When not out saving the world, I enjoy crafting, yoga and indulging my inner nerd in comic books and pop culture. I am currently working on a Superhero Storytime program with the Anchorage Library. You can reach me through email at subzeroheroesak@gmail.com or through FaceBook and Instagram under @subzeroheroesak.
INSTAGRAM – http://instagram.com/subzeroheroesak and https://www.instagram.com/farnorthcosplay/
8/29 Thursday – MTA Day
Amy Lynn Grue – Alaskan Mama Vlogger
Day Sponsor: MTA
Eagle River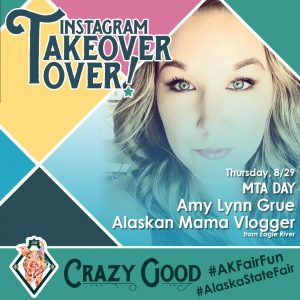 I'm Amylynn aka Alaskan Mama Vlogger! Lifestyle Content Creator and Influencer on YouTube and Instagram. Also the owner of AK Mama Birth Stories; where I film and document labor and delivery and turn it into cinematic birth films. I am born and raised in Alaska and love sharing the reality of raising five kids in modern day Alaska. My husband and I love sharing our Alaskan adventures, hiking, camping and the everyday joyful chaos as a family of seven in Eagle River Alaska.
INSTAGRAM – https://instagram.com/alaskanmamavlogger/
YOUTUBE – https://www.youtube.com/channel/UCBxudMVoyqr3nh1Lh8kmPXA?
8/30 Friday – Tech Day
Liz Alaska – @LizAlaskaBeauty
Anchorage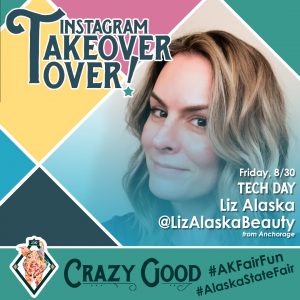 I'm an LA transplant to Alaska, a skincare enthusiast, logging my daily routine, sharing my thoughts, mistakes and reviews. #LizAlaskaLife
INSTAGRAM: https://www.instagram.com/lizalaskabeauty/
8/31 Saturday – Mining Day
Charis Lincoln – Charisma Star 
Day Sponsor: Council of Alaska Producers (CAP) 
North Pole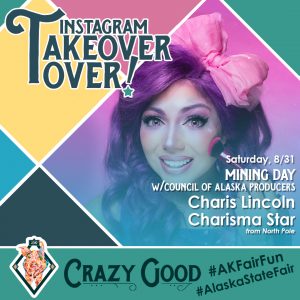 I'm a beauty and lifestyle vlogger living in North Pole, Alaska. Since 2010, I've created makeup transformations and colorful looks on YouTube and Instagram. In 2012, I won the first-ever NYX FACE Awards in Los Angeles, CA. After living in L.A., traveling the world, and working with brands such as Disney, L'Oreal Paris, Nickelodeon, BH Cosmetics, and ABC Family, my husband and I decided to move back home to Alaska and start a family. With the addition of our new baby boy, I continue to create inspiring content and fun for the whole family!
INSTAGRAM: https://www.instagram.com/charismastar/
YOUTUBE: http://www.youtube.com/charismastar
9/1 Sunday – Military Appreciation Day
Adam & Sherri Legg – LeggLife
Day Sponsor: GEICO and GEICO Military
Anchorage
Hi, we're Adam and Sherri Legg, online creators from Anchorage! One of our core values is to live our lives out loud and on purpose, and we love that we have the opportunity to do that online like never before! Our goal is to create fun, inspiring, family-friendly content that connects with people in encouraging and authentic ways.
INSTAGRAM: https://www.instagram.com/legglifeak/
YOUTUBE: https://youtube.com/legglifeak
9/2 Monday – First Responders Day
Blaze Bell
Anchorage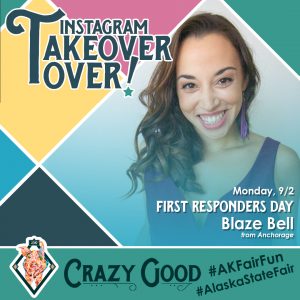 I'm a Singer, Motivational Speaker, and an Empowerment Coach. I was voted "Best Vocalist" in the 2018 Press Picks for work with the band, Blaze & Eric. I received the 2019 First Lady Volunteer of the Year award for my work with Victims for Justice and STAR. I can be found singing all over Anchorage and playing with my fun kids, Lyric and Jazz.
INSTAGRAM: https://www.instagram.com/blazebellbliss/