2016 Line-Up to be Announced on April 2 at Concert Kick-Off Party. It's always a good time at the Alaska State Fair Concert Series, so we asked ourselves, "Why shouldn't the announcement be just as much fun?" This year, for the first time, we will announce the confirmed 2016 entertainers at a Concert Kick-Off Party on Saturday, April 2!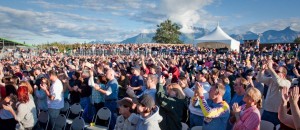 The fun takes place at the Glenn Massay Theater on the University of Alaska Mat-Su Campus. Doors open at 6 p.m.  Tickets available now. 
Tickets to this all-ages event are $45 each and will be available at the Fair annual meeting on Thursday, February 11 and online beginning Friday, February 12. All proceeds from the party will benefit the Fair scholarship fund, which awards scholarships to Alaska high school students planning to attend college or vocational school.
At the kick-off, you can enjoy appetizers created by celebrity chef Suzette Lord Weldon, with assistance from David Williams and students in the Job Corps program. All guests will also receive two complimentary drinks, including beer, wine or non-alcoholic selections. We'll also have live entertainment – the opener starts at 7 p.m. and Redhead Express takes the stage at 7:30!
You'll also have the chance to win two tickets to the 2016 concert of your choice. Or buy your concert kick-off party tickets in advance and you'll be in the running to win FOUR tickets to any Fair concert!
The real draw, though, is the opportunity to be among the first to purchase concert tickets. Guests at the kick-off may purchase tickets to the 2016 concert series – and best of all, there will be no convenience fee for tickets purchased at the event!
We'll also announce the concert line-up to Fair members at 6 p.m., and instructions will be sent to Fair members about how to purchase tickets online. Concert tickets go on sale to the general public on Friday, April 8.
Get your tickets now and mark your calendar for April 2 and we'll see you at the first-ever Alaska State Fair Concert Kick-Off Party!