Description: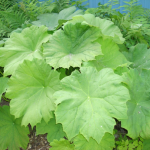 A beautiful bold perennial for Alaskan gardens.
Astilboides comes up in late spring, gently unfolding into a large, strong and stable plant.
Blooms are insignificant and removed as they come up as the plant is grown for the foliage effect.
Zone:
5 (We have NOT found this to be true here – it is much hardier than that – possibly Zone 3)
Bloom Color:
White, although removed as it is not showy
Bloom Time:
Early summer
Light:
Part shade. Will tolerate full shade if it is not too heavy.
Height:
Tops out at 4'
Habit:
Mounding