Description: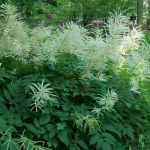 Here's a beautiful perennial that is super hardy in Alaska.
Aruncus dioicus is a great plant to put in those difficult shady spots in the garden.
It's a big one though!
Give it lots of space to be its lovely self.
Growing 5-6' tall and about that wide, it can fill a spot quickly.
In mid July, it throws up beautiful creamy spikes of frothy looking blooms. Deadhead these before they set seed and you will control any unwanted spread of this pretty beauty.
Zone:
3
Bloom Color:
Creamy white
Bloom Time:
Early to mid-July
Light:
Full sun to shade although it does best in semi-shade or shade
Height:
5-6'
Habit:
Upright/branching