Fri Aug 26

•

7:00pm

ConocoPhillips Borealis Theatre
This event is expired.
Concert Ticket Only
| Area | Price |   |
| --- | --- | --- |
| Lawn | $49 | BUY |
| Reserved | $65 | BUY |
These tickets are for the concert only, you will need to purchase additional Fair admission to attend.
Gates Open: 5:30 PM
Show Type: Alternative Rock
Restrictions: No chairs, standing only in reserved area. Alcohol (Wet) (Must be 21+ with Valid ID) and Non-Alcohol (Dry) areas available. No Personal Chairs. Come prepared for the weather. Limited bleacher seating is available in the Alcohol area.
Concert Seating info  | Theatre and ticketing
Rise Against
Multi-gold and platinum band Rise Against blurs the lines between astute punk rock and melodic-driven pop, with their blazing and aggressive punk rock and lyrics.
"It describes a lot of what Rise Against does," says singer/guitarist/lyricist Tim McIlrath, "to speak and scream when we feel there are things that are happening that aren't being addressed."
After putting out their 2001 debut, The Unraveling, which was hailed as "hardcore salvation," Rise Against found further success with 2006's The Sufferer & The Witness, which drew in an international crowd for the first time, and 2008's Appeal To Reason, which featured the gold-certified hit single "Savior" that to date has garnered half-a-billion streams and become one of the band's six top 10 singles on Billboard's Hot 100 chart.
Subsequent albums have touched on issues of LGBTQ rights, animal rights, voting rights, environmental causes and modern warfare, leading UK rock bible NME to herald Rise Against as "maybe the most important punk band on the planet."
The band's 2017 blockbuster Wolves became their fifth-straight top 10 record on the Billboard 200 albums chart, and their ninth studio album Nowhere Generation features the singles "Broken Dreams, Inc." and "Talking to Ourselves."
"When we first started Rise Against, we just wanted to be a dirty punk band, write some songs, play a bowling alley, and see how many mosh pits we could get going," McIlrath says. "We did not anticipate it to snowball or that there was this audience for what we were doing. But we've come to realize people want honesty and that music can be a catalyst for change."
Rise Against features the talents of Tim McIlrath (singer/guitarist/lyricist), Joe Principe (bass), Brandon Barnes (drums) and Zach Blair (lead guitar).
Music Videos
Nowhere – Rise Against
<
Savior – Rise Against
Spotify Playlist
ConocoPhillips Borealis Theatre and Ticket Info
Concert ticket prices do not include Fair admission. Convenience fees apply. Babes-in-arms admitted for free; children aged 2 and up must have a ticket. During the Fair, concert tickets may also be purchased on the fairgrounds at the Borealis Box Office, across from the Borealis Theatre. The ConocoPhillips Borealis Theatre is an open-air theatre; shows take place rain or shine. Both entrance gates open approximately one hour prior to the show. Personal chairs, professional grade cameras, cameras with detachable lenses and recording devices are strictly prohibited. There are 2 entry gates to the theatre; a "wet" gate directly into the alcohol consumption areas and a "dry" gate accessible by all ages. If you enter through the "dry" gate, you may cross into the "wet" area once you're inside the theatre. To access any area with alcohol consumption, including entering through the "wet" gate, you must be 21 or over and present a valid photo ID, or be accompanied by a parent or legal guardian and present a valid photo ID.
Concert Seating Map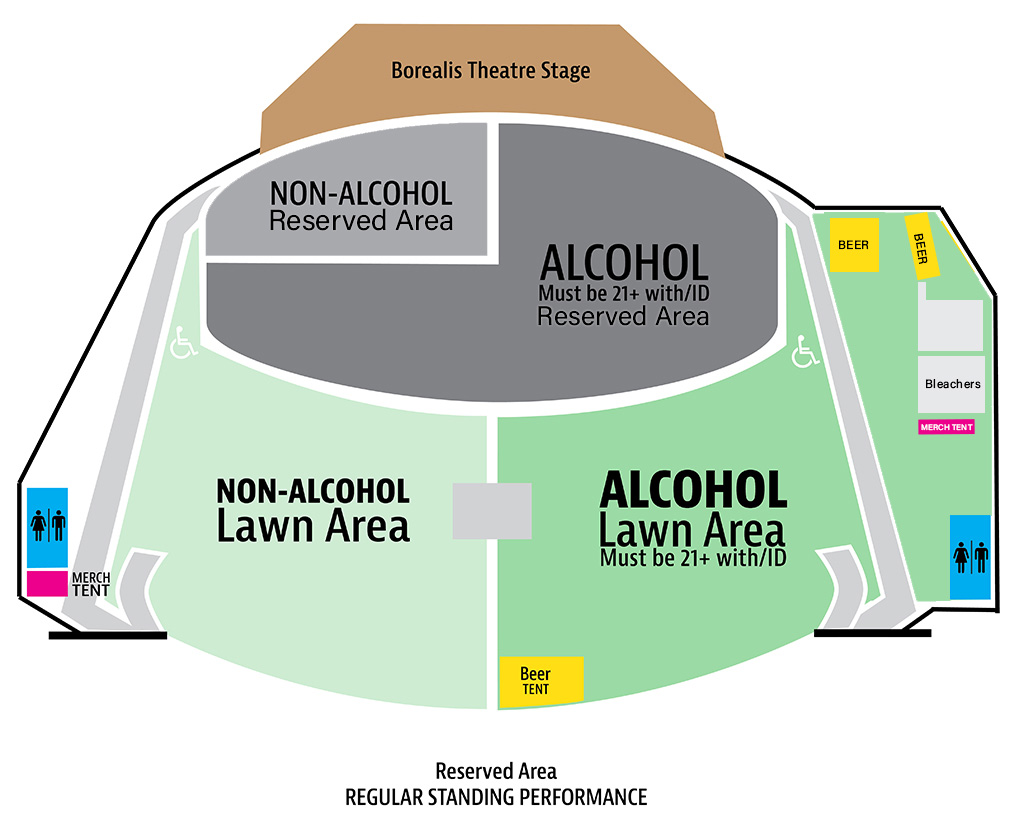 There are "wet" (alcohol consumption permitted) and "dry" (no alcohol) areas. To enter the "wet" area, you must be aged 21 or older and present a valid photo ID, or be accompanied by a parent or legal guardian and present a valid photo ID. Wheelchair accessible seating areas are available in both the reserved and lawn areas. Some concerts have chairs in the reserved area. There are no chairs in the lawn area. Limited bleacher seating is available on the "wet" side of the lawn area. Please check each concert page for more information.