September 4, 2021

•

7:00 pm

ConocoPhillips Borealis Theatre
Tickets on-sale to the public Friday, May 7 at 10am
Concert Ticket
with Fair Admission
| Location | Sections | Price | Purchase |
| --- | --- | --- | --- |
| Lawn Area | Alcohol or Non-Alcohol | $65 | BUY |
| Reserved Area | Alcohol or Non-Alcohol | $85 | BUY |
Ticket Price: $55 – $85
Gates Open: 5:30 PM
Show Type: Punk rock, hard rock, glam rock, dance-punk
Restrictions: Fair admission is required to enter concert area and is additional. No chairs, standing only in reserved area. Convenience fees apply to online ticket purchases. Tickets with discounted Fair admission, offer ends August 25. Alcohol (Must be 21+ with Valid ID) and Non-Alcohol areas available. No Personal Chairs. Come prepared for the weather. Limited bleacher seating is available on the Alcohol area. More detailed information on Theatre, Seating and Ticketing is provided below.
More Information
Billy Idol Biography
Billy Idol Biography
The man who would become Billy Idol, William Michael Albert Broad, was born in England in 1955. Throughout high school, William taught himself how to play guitar and started singing in low-key local bands. He chose attending university over working for his father, and soon began playing guitar in a band that gigged largely in the school cafeteria.
In 1976, William and several other musicians formed Generation X, which released songs including "Youth Youth Youth" and "Ready Steady Go." That same year, William Broad was reborn as Billy Idol. With his star-catching name and head full of peroxide spikes, Idol was an instant rock star.
In 1980, Generation X split, but Idol and a fellow band mate continued as Gen X. Their song "Dancing With Myself" did not break any sales records at the time of its' initial release, but it created a remarkable stir in clubs throughout the world. After the commercial failure of their first album, Gen X/Generation X came to an end.
In 1981, Idol re-started his life in America, where "Dancing With Myself" had cleared a path for him. The song was re-released as an Idol solo release, followed shortly by "Mony Mony." Idol's move to the U.S. coincided with the launch of MTV, and he was soon a familiar a face on American TV screens.
By the end of the 1980s, Idol had numerous platinum albums and worldwide sold-out tours to his name. He garnered three Grammy nominations, one MTV Video Music Award (and 10 nominations), and a prestigious Brit Award. He racked up an extraordinary run of hits, including "White Wedding," "Hot In The City," "Rebel Yell," "Eyes Without A Face," "Flesh for Fantasy," "Catch My Fall" and "To be A Lover." In 1987, his recording of "Mony Mony" reached #1 in the Billboard singles charts and "Cradle of Love" reached #2 in 1990.
In the 1990s and beyond, Idol released two of his most noteworthy records: 1993's Cyberpunk and 2005's Devil's Playground. In the new millennia he published his autobiography, Dancing With Myself, and released his latest album, Kings & Queens of the Underground.
Billy Idol Music Videos
Dancing with Myself – Billy Idol
Bill
White Wedding Pt. 1 – Billy Idol
Rebell Yell – Billy Idol
Billy Idol Spotify Playlist
Billy Idol Spotify Playlist
ConocoPhillips Borealis Theatre and Ticket Info
ConocoPhillips Borealis Theatre and Ticket Info
Concert ticket prices do not include Fair admission. Convenience fees apply. Babes-in-arms admitted for free; children aged 2 and up must have a ticket. During the Fair, concert tickets may also be purchased on the fairgrounds at the Borealis Box Office, across from the Borealis Theatre.
The ConocoPhillips Borealis Theatre is an open-air theatre; shows take place rain or shine. Both entrance gates open approximately one hour prior to the show. Personal chairs, professional grade cameras, cameras with detachable lenses and recording devices are strictly prohibited.
There are 2 entry gates to the theatre; a "wet" gate directly into the alcohol consumption areas and a "dry" gate accessible by all ages. If you enter through the "dry" gate, you may cross into the "wet" area once you're inside the theatre. To access any area with alcohol consumption, including entering through the "wet" gate, you must be 21 or over and present a valid photo ID, or be accompanied by a parent or legal guardian and present a valid photo ID.
Concert Seating Map
Concert Seating Map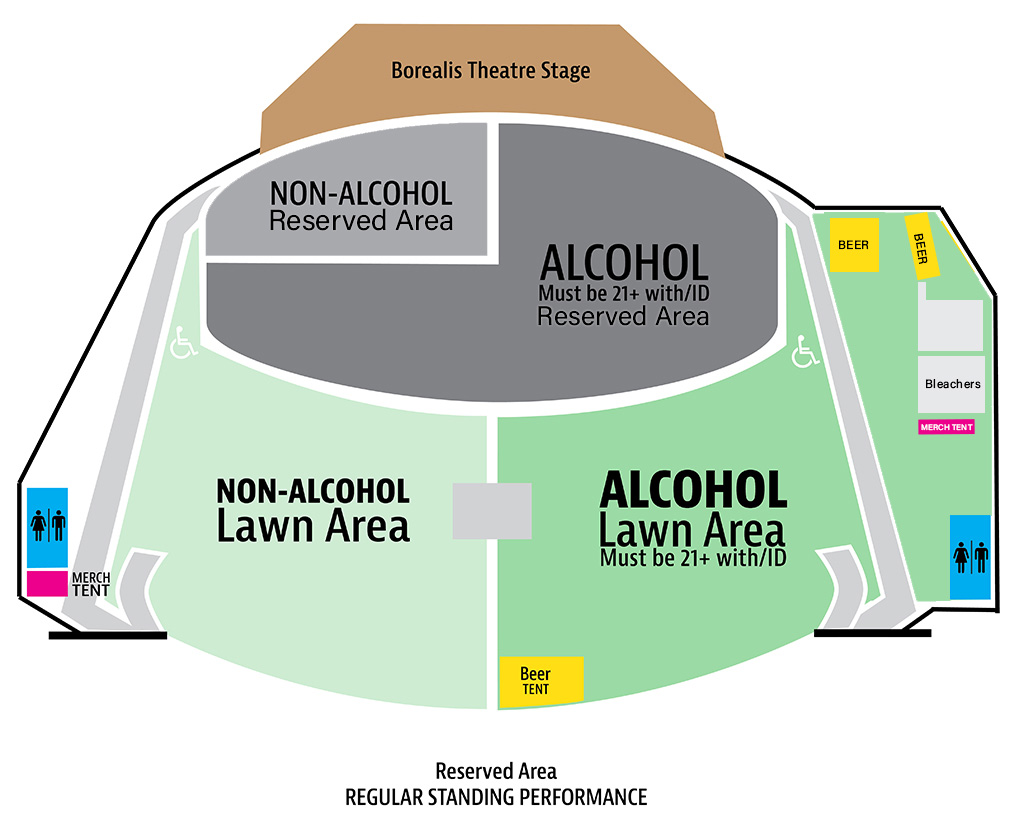 There are "wet" (alcohol consumption permitted) and "dry" (no alcohol) areas. To enter the "wet" area, you must be aged 21 or older and present a valid photo ID, or be accompanied by a parent or legal guardian and present a valid photo ID. Wheelchair accessible seating areas are available in both the reserved and lawn areas. Some concerts have chairs in the reserved area. There are no chairs in the lawn area. Limited bleacher seating is available on the "wet" side of the lawn area. Please check each concert page for more information.