Sat 20 Aug 2022

•

7:00pm

ConocoPhillips Borealis Theatre
Concert Ticket With Fair Admission
| Area | Price |   |
| --- | --- | --- |
| Lawn | $49 | BUY |
| Reserved | $59 | BUY |
These concert tickets come with Fair admission, offer ends August 18.
Concert Ticket Only
| Area | Price |   |
| --- | --- | --- |
| Lawn | $39 | BUY |
| Reserved | $49 | BUY |
These tickets are for the concert only, you will need to purchase additional Fair admission to attend.
Gates Open: 5:30 PM
Show Type: Country
Restrictions: No chairs, standing only in reserved area. Alcohol (Wet) (Must be 21+ with Valid ID) and Non-Alcohol (Dry) areas available. No Personal Chairs. Come prepared for the weather. Limited bleacher seating is available in the Alcohol area.
Concert Seating info  | Theatre and ticketing
Chris Janson
Rolling Stone calls breakout country star Chris Janson a "live legacy in the making," while People applauds his "riveting stage style," and The Tennessean describes him as an "undeniable star." The platinum-selling recording artist, high-octane entertainer, multi-instrumentalist, and award-winning singer/songwriter has also been named among the greatest six live performers in country music by Bobby Bones.
The ACM Award-winner has collected prestigious accolades that place him amongst country music greats. Both his hit "Drunk Girl" and his chart-topping, three-time platinum "Buy Me A Boat" were named among NSAI's "10 Songs I Wish I'd Written" lists, making Janson one in a handful of the industry's most elite artists to earn the title multiple times.
"Good Vibes," the flagship single from Janson's 2019 album Real Friends, and follow-up "Done" each topped the country charts, bringing his total of #1 songs to four. Recently, the hit-maker entered a new chapter with the single, "Bye Mom." This triumphant ode to unconditional love was most-added upon impact at country radio and earned the highest first-week streaming total of Janson's career.
In addition to his own successes, the talented songwriter has lent his pen to industry peers including Tim McGraw ("Truck Yeah," "How I'll Always Be"), LOCASH ("I Love This Life"), and the legendary Hank Williams Jr. ("God Fearin' Man," "Those Days Are Gone").
Music Videos
Buy Me a Boat – Chris Janson
Bye Mom – Chris Janson
Spotify Playlist
ConocoPhillips Borealis Theatre and Ticket Info
Concert ticket prices do not include Fair admission. Convenience fees apply. Babes-in-arms admitted for free; children aged 2 and up must have a ticket. During the Fair, concert tickets may also be purchased on the fairgrounds at the Borealis Box Office, across from the Borealis Theatre. The ConocoPhillips Borealis Theatre is an open-air theatre; shows take place rain or shine. Both entrance gates open approximately one hour prior to the show. Personal chairs, professional grade cameras, cameras with detachable lenses and recording devices are strictly prohibited. There are 2 entry gates to the theatre; a "wet" gate directly into the alcohol consumption areas and a "dry" gate accessible by all ages. If you enter through the "dry" gate, you may cross into the "wet" area once you're inside the theatre. To access any area with alcohol consumption, including entering through the "wet" gate, you must be 21 or over and present a valid photo ID, or be accompanied by a parent or legal guardian and present a valid photo ID.
Concert Seating Map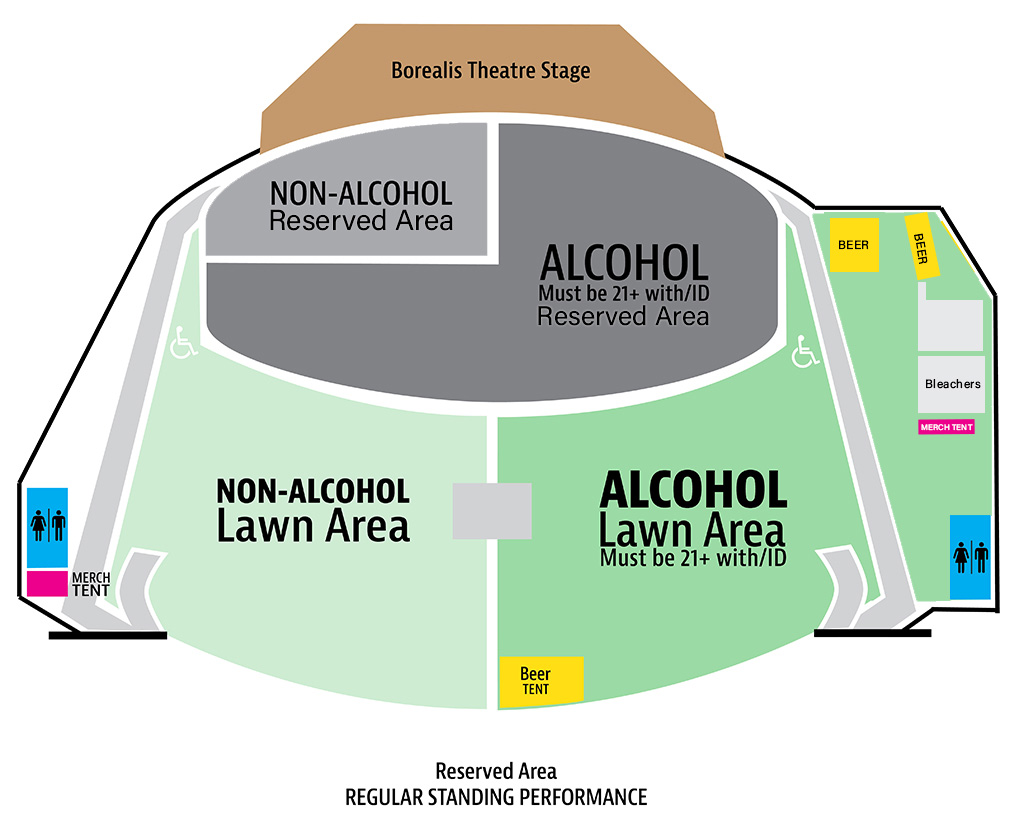 There are "wet" (alcohol consumption permitted) and "dry" (no alcohol) areas. To enter the "wet" area, you must be aged 21 or older and present a valid photo ID, or be accompanied by a parent or legal guardian and present a valid photo ID. Wheelchair accessible seating areas are available in both the reserved and lawn areas. Some concerts have chairs in the reserved area. There are no chairs in the lawn area. Limited bleacher seating is available on the "wet" side of the lawn area. Please check each concert page for more information.