Historical Farmstead
The Matanuska Colony is just one of President Roosevelt's New Deal "resettlement communities" and the only example of Agriculture Colonization.
In the spring of 1935, during the Great Depression, 203 families (Matanuska Colonists) were chosen from Minnesota, Michigan, and Wisconsin to relocate to Alaska to develop an agriculture community.
On April 26, 1935, Raymond Rebarchek age 27, along with his young wife Edna, age 19, and their son Ronald, 10 months said goodbye to their family in Minnesota. The Rebarchek family made the long journey by car, train, army transport ship – then again by train to excitedly arrive in Palmer, the place they would call home. Matanuska Colonists settled into a 'tent city' anticipating the day of the 'big drawing'.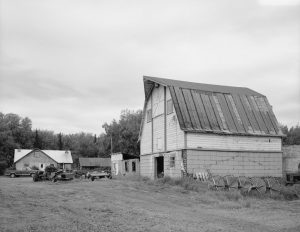 May 23, 1935, was a day that few colonists will forget. It was the day of the drawing to determine their 40 acre tract. Each family would live and establish their farm according to the numbered slip of paper chosen. Ray Rebarchek drew tract 52, went over to the map and discovered the location to be about a mile south of the current townsite of Palmer. Later Ray Rebarchek purchased neighboring tracts 51 and 53 as well.
"Our place was simply beautiful; gently rolling, with some of the densest timber I ever saw in my life. The heavy growth was probably the result of the rich soil. We had brought some prized rhubarb plants from Minnesota. As soon as the scouting trip around the perimeter was completed, I scratched brush away from a spot in the woods and stuck in the plants. There was something growing in our ground the next day after the drawing. It was a good feeling." Ray Rebarchek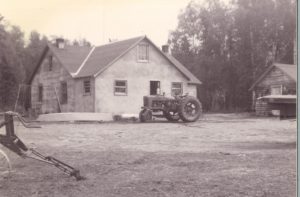 By the fall of 1935 a log farm house was constructed on tract 52 – it was the first house built in the Colony. A barn, chicken coop, wellhouse/sauna, outhouse, and other outbuildings followed shortly after.
Crops including potatoes, peas, rhubarb, lettuce, cabbage, strawberries, raspberries, oats, barley and more have been planted in the fields and gardens on the Rebarchek farm. The Rebarchek farm also operated as a Dairy between 1945-1970.
In 1978 the farm was listed on the National Register of Historic Places as being significant for American history, Alaskan history, and Matanuska Colony history.
Colony houses, barns and chicken coops are very distinguishable as they were constructed according to a government plan and directions. Many of these structures can be seen throughout the Matanuska Valley today.
We invite you to discover not only Palmer history but American history with a stop at the Rebarchek Historic Homesite!